The Just Transition Issue:
In Depth
A Surprisingly Simple Solution to a Transportation Mess in India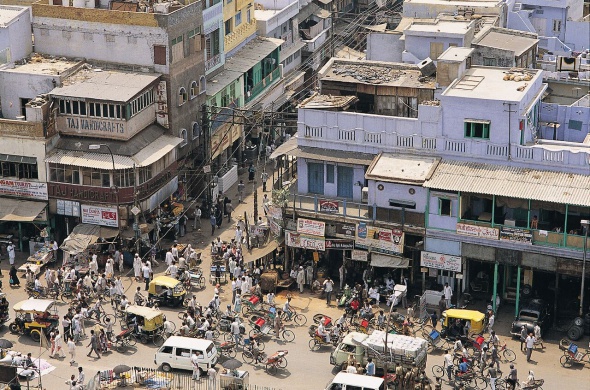 A Surprisingly Simple Solution to a Transportation Mess in India
Electric rickshaws have become an economic and environmental lifeline for both drivers and passengers.
Why you can trust us
---
It is about 6 p.m. in New Town, a satellite township of Kolkata, India. As the daylight dims, streetlights flicker on. Chintu Mondal has parked his blue-and-red electric rickshaw near a new, swanky glass-and-steel building. Very soon, the offices inside will disgorge hundreds of employees looking for rides home. Taxis here are hard to come by. Buses are few and, at this time, crowded. The price for an app-based cab, like Uber, surges in the evening.
New Town is an information technology hub about 12 miles from bustling Kolkata, and every evening—sometimes late at night—workers with backpacks and laptops look for rides to get back home to the city. In this new township of high-rises, apartment complexes, malls, and IT complexes, electric rickshaws have become an economic and environmental lifeline.
In the past four years, the number of e-rickshaws has mushroomed in suburban and rural Bengal, where public transport networks are not as dense as they are in the city. Mondal, 42, has been driving one in New Town for almost three years. Previously, he held odd jobs as a daily wage laborer, carpenter, and sometimes as an istiriwala (literally translates to "ironing man") ironing people's clothing for the U.S. equivalent of 7 to 16 cents apiece.
His family and many others like them lost their farmland when the new township was established in the late 1990s. Most of the drivers saved money or took out loans to buy their vehicles.
Mondal says he enjoys driving an e-rickshaw. His day starts at 5 a.m. and lasts until about 11 p.m., with a break for food. The route is fixed and short—less than 2 miles—and close to the neighborhood where he lives. "I earn more than I used to, and it is less of an effort," he says.
One vehicle seats four passengers, and he charges about 16 cents a ride. The money he earns covers household expenses. The battery takes about eight hours to charge at home, where voltage often fluctuates, and lasts a whole day. He says his electricity bill typically runs as much as one-sixth his monthly income.
For drivers like Mondal, the e-rickshaw provides a livelihood. For a fast-growing India, the vehicles are helping to improve quality of life.
Like most big cities in India, Kolkata is experiencing rising levels of air pollution. The World Health Organization reports that 10 of the world's 20 most polluted cities are in India, and the country is projected to grow by 300 million new urban residents by 2050. Also, rising incomes have led to an increase in personal cars, and India is now set to become the world's fourth-largest market in domestic car sales. To accommodate this growth, India will need to invest in climate-friendly cities. Reliable, affordable, and sustainable transportation will be essential.
The e-rickshaw has become the poster child of India's drive to meet these goals. Autohaus, a Chinese commercial vehicle manufacturing company, announced that it will invest more than $13 billion in West Bengal to manufacture them; app-based cab companies such as Ola have added them in small towns and cities; a premier vehicle manufacturing company, Kinetic, has rolled out an electric three-wheeler in Delhi; and women are getting started in what has traditionally been a male-dominated industry. The Delhi government has funded "smart" e-rickshaws equipped with GPS and cameras. Now, female drivers, trained in traffic rules, road safety, and martial arts, are getting a foothold.
The e-rickshaw has become the poster child of India's drive to meet these goals.
Investment in new e-rickshaws has also spurred a comeback for its predecessor, the cycle rickshaw. The Indian government recently announced a mobility program that includes funding for non-motorized transportation and the expansion of local connectivity in 103 cities.
A new government-funded lightweight e-rickshaw allows drivers to run more trips, carry more passengers, and add to their earnings. The idea was not to make a complex high-tech product that was inaccessible to most, but instead to design a simple and efficient cycle rickshaw, says Shreya Gadepalli, South Asia director of the Institute for Transportation and Development Policy. In Delhi, about 85 percent of the 700,000 rickshaws on the street are based on this model.
Surveys have shown that the changes have led to higher incomes for operators. "Not only do the livelihoods improve, but manufacturing the modernized rickshaw in India will open new green job opportunities," Gadepalli says.
Buses are the most common mode for some of the most vulnerable sections of Indian society. However, apart from a few major cities, such as Kolkata and Chennai, Indian bus systems are in poor shape. Last year, Delhi scrapped its Bus Rapid Transit system because of congestion on the corridor, mechanical issues, and lawsuits that pushed for access to bus lanes in a crowded city.
The poor do most of the cycling and walking, the most sustainable methods of commuting. And, perhaps because this segment of the population is less influential, there has been a marked absence of designated lanes for cyclists. Kolkata, in particular, has banned bicycle lanes on many of its roads.
Meanwhile, rising incomes and increased use of mobile phones have driven app-based cab services that critics argue are consolidating control of transportation infrastructure. Smaller players and local taxi services have been pushed out of the market, and drivers who moved to app platforms have often found themselves working in poor conditions.
In March, about 40,000 drivers affiliated with Ola and Uber went on a daylong strike in Mumbai to protest dwindling incentives and arbitrary fines. In February, Praveen Kumar, unable to pay for his taxi's loan, became the first Uber driver in India to commit suicide.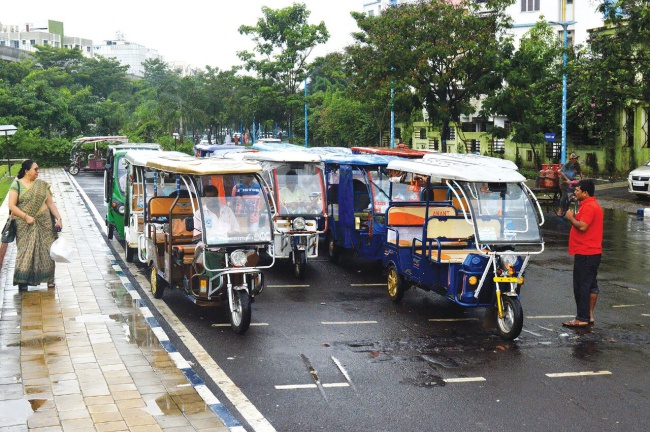 Electric rickshaws in New Town outside Kolkata. Photo by Anuradha Sengupta. 
Despite the opposition, ride-shares are on the rise. Worldwide, India has seen the largest growth of Android taxi app installs, according to the 2015 report by App Annie, which provides industry analytics. For a country that has long considered car ownership a status symbol, consumers are surprisingly open to sharing.
For the majority in India, however, owning a car is still a distant reality, and rideshare apps are unlikely to reduce urban congestion or pollution drastically. This is where the e-rickshaws have picked up the slack. What is still needed, though, is an alternative to lead acid batteries, including their charging capabilities. Already, a few companies are making solar-powered e-rickshaws that are cheaper than automobiles.
All the government needs to do is enable microloans, Mondal says. He has opened a street stall where his wife sells snacks. They are now saving for their daughter's education. "I am less stressed out because my daughter and wife feel more settled," he says.