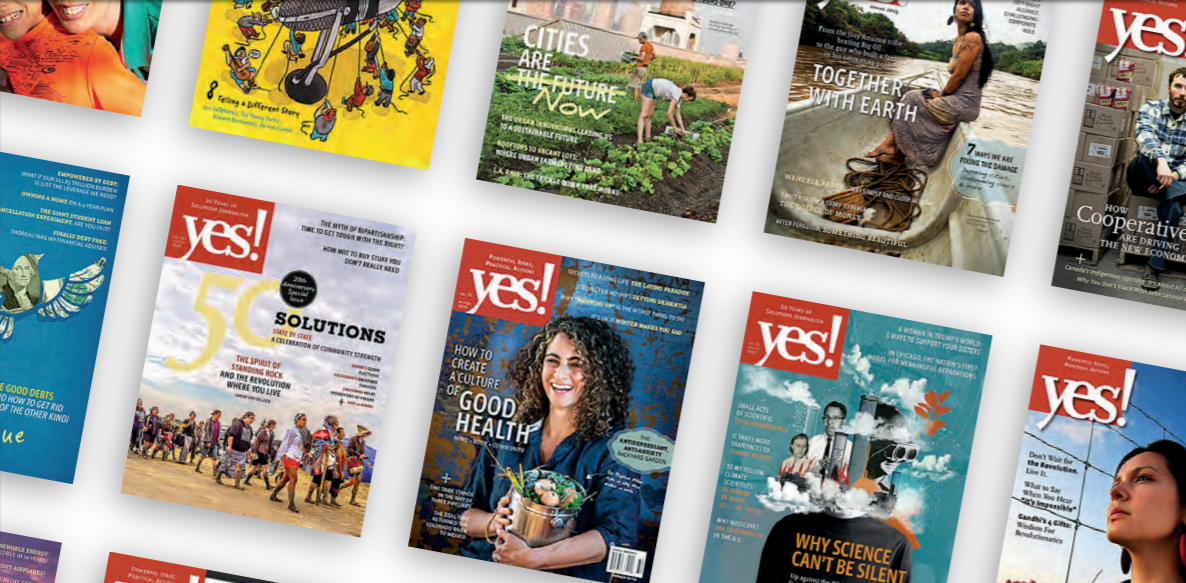 Through rigorous reporting on the positive ways communities are responding to social problems and insightful commentary that sparks constructive discourse, YES! Media inspires people to build a more just, sustainable, and compassionate world.
Our Journalism
YES! Media is independent and nonpartisan. Our explanatory journalism analyzes societal problems in terms of their root causes and explores opportunities for systemic, structural change. Our stories uncover environmental, economic, and social justice intersections. Our solutions reporting spotlights the ideas and initiatives of people building a better world. Our commentaries address dominant economic, political, and social structures and consider alternative ways of thinking that can produce a more equitable and Earth-friendly world.
Editorial Independence, Transparency, and Ethics
YES! Media editorial policies follow the Society of Professional Journalists Code of Ethics. We have adopted standards for editorial independence and transparency of the Institute for Nonprofit News. See more on our editorial policies and standards here.
Nonprofit and Reader-Supported
YES! Media is the business name for Positive Futures Network, a 501(c)(3) nonprofit organization. YES! is ad-free and has no paywall for its online content. Most magazines make their money from advertising. But we don't want advertisers to influence the content of YES! Because subscription sales cover just one third of our costs, we rely on tax-deductible donations from our readers and from foundation grants. Donations also fund discounted subscriptions to libraries and teachers, grassroots organizations, faith groups, and policy-makers.
Land Acknowledgement
With gratitude and humility, YES! staff honors the land on which many of us live and work. We acknowledge that our organization operates on the stolen land of the Duwamish (dxʷdəwʔabš, "People of the Inside") and Suquamish (suq̀ʷabš, "People of Clear Salt Water") tribes, who have always called this land home.
"The Duwamish people have been in the Seattle/Greater King County area since time immemorial," writes the tribe on its website. "Our stories, such as 'North Wind, South Wind,' tell of the last Ice Age, and an Ice Weir breaking over the Duwamish River. We were the first signatories on the Treaty of Point Elliott in 1855, signed by Chief Si'ahl, who was chief of the Duwamish and Suquamish tribes." The tribe has been seeking federal recognition for decades, and today includes enrolled members who "still live on Duwamish aboriginal territory, which includes Seattle, Burien, Tukwila, Renton, and Redmond."
The Suquamish continue to live on the land of their ancestors, on what is now the Port Madison Indian Reservation. The Suquamish describe their people as "expert fishermen, canoe builders and basket weavers [who] live in harmony with the lands and waterways along Washington's Central Salish Sea as they have for thousands of years. Here, the suq̀ʷabš live and protect the land and waters of their ancestors for future generations as promised by the Point Elliot Treaty of 1855."
We understand that acknowledgement alone is insufficient to address and begin to repair the historic and ongoing harm caused to Indigenous peoples by colonialism, White supremacy, and centuries of attempted genocide. We believe in and affirm the rights of Indigenous people to inhabit and cultivate their ancestral lands, and to be recognized, respected, and compensated by those of us who live and work here. Therefore, as of May 2021, in addition to our coverage of and by Indigenous peoples, YES! Media makes an annual contribution to organizations providing direct support to Indigenous people, as one tangible measure.
More About YES!
FAQ
Contact Us
Reposts & Reprints
Submissions
Where to Find YES! Magazine
Email Newsletter
Teacher Resources
Annual Financial Reports