The Human Cost of Stuff:
In Depth
Escape from an L.A. Sweatshop: How Modern-Day Slaves Become Lobbyists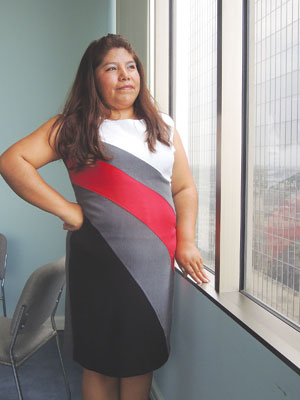 Escape from an L.A. Sweatshop: How Modern-Day Slaves Become Lobbyists
Lured from Mexico into forced labor at an American factory, Flor Molina's human trafficking story was typical. What's remarkable is what she did next.
Why you can trust us
---
Flor Molina thought it was her lucky break. At 28, she had just lost her youngest child and was working two jobs in Puebla, Mexico, but not making enough money to feed and clothe her surviving children. At night, she took sewing classes, hoping to one day earn enough money to properly care for them . "I was so afraid that what happened to my baby would happen to my other three children," she remembers.
So when her sewing teacher told her about a job in the United States that would pay enough money to support her family and maybe even start her own business, she accepted. She had never been out of the country, and the job meant leaving her children with her mother indefinitely.
Molina and her sewing teacher were flown to Tijuana, where a powerful woman known in Puebla as "la Senora" met them at the border. She confiscated Molina's documents and clothing for "safekeeping." "I thought it was strange," Molina says, "but she had been living in the U.S. for so long so I thought, she knows how things are run." A coyote took the two women to Los Angeles, where they were immediately put to work in a sewing factory.
Molina's workday started at 4 a.m., sewing by the dim light on the machine. During the regular workday, she ironed, unloaded and reloaded delivery trucks, and stitched labels into dresses—some for major American stores. When the other workers went home, Molina cleaned the entire factory. She was subjected to physical abuse, and wasn't allowed to leave the building unattended. She was, for all practical purposes, a slave.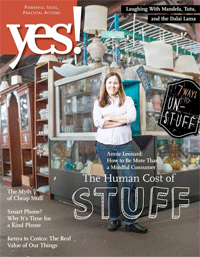 Click here to subscribe to YES!
"I thought slavery was only in the books," she says. "I was surprised to find myself living in it."
According to the International Labor Organization, nearly 21 million people are victims of forced labor—often called modern-day slavery—across the world. Many of them are exploited in agriculture, construction, domestic servitude, and manufacturing. An estimated 15,000-17,500 people are trafficked into the United States alone every year.
Molina's experience is typical. What's remarkable is what she did with it.
Just 40 days into her internment, Molina broke free. She got permission to go to church alone and figured out how to contact a concerned fellow worker who had noticed Molina's abuse in the shop. With her help Molina connected with the nonprofit Coalition to Abolish Slavery and Trafficking (CAST).
CAST has worked with victims of forced labor since 1998 helping them re-enter society and training them as advocates. Survivors are well-positioned to lobby for policies that help victims, curb abuse, and prosecute offenders, says Kay Buck, executive director of the Coalition. "We're learning directly from the survivors we're serving, and that's informing all of these policy measures to have an impact on future lives."
One such law is California's Transparency in Supply Chains Act, signed Gov. Arnold Schwarzenneger in 2010. Molina testified before the California legislature to help urge the bill's passage. The law requires companies doing business in California with more than $100 million in annual global profits to report their efforts to eliminate slavery from their supply chains. Buck says the law poses a question to both consumers and companies: What are we doing about slavery?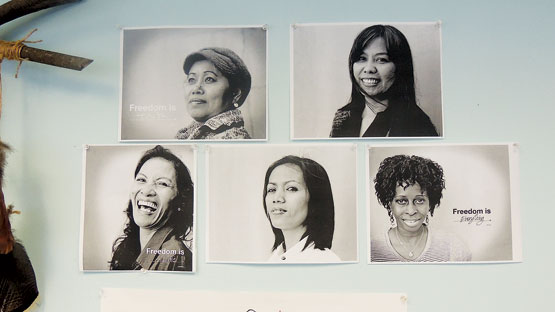 Portraits of survivors that CAST has helped from a project by photographer Mette Lampcov. Photo by Christopher Meeks for YES! Magazine.
Molina is now a pioneering member of CAST's Survivors Caucus, a group of women from 13 countries who escaped forced labor in the United States. They are directly involved in crafting policies that meet the needs of trafficking victims—like what kinds of health care and visa protections they receive.
They also serve as a support group. Although she spent just 40 days in the sewing shop, it took years for Molina to recover emotionally—and eight years to reunite with the children left in Mexico. "I knew I could cry and share these feelings with the other survivors," Molina says. "I don't have sisters of my own, but if I had sisters, they would be like them."
Molina looks ahead to lobbying for a federal counterpart to the California transparency act and a new California law addressing the growing problem of exploitative labor recruitment.
"Now that I'm a grandmother, I want a world free of slavery," Molina says. "Now that I survived, I want to change something."