I Owed My Parents Everything—But My Son Will Owe Me Nothing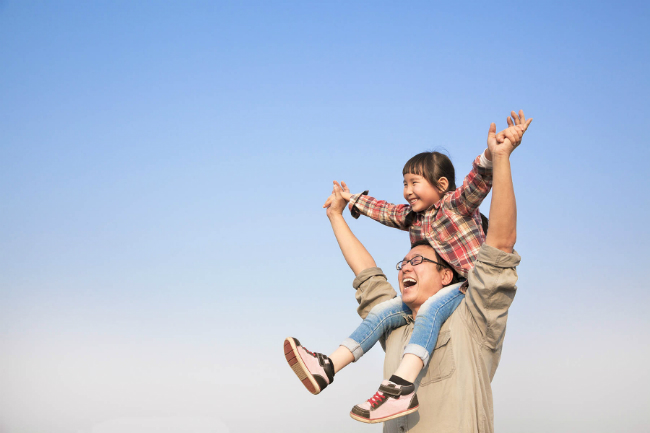 I Owed My Parents Everything—But My Son Will Owe Me Nothing
Why family debts shouldn't be about money or expectations, but about love.
Why you can trust us
---
I was never fully aware of my parents' debt until having to apply for college financial aid. Poring over the universal financial aid application, I read my father a series of almost clinical questions about our family's debt, income, and savings. He responded calmly and matter-of-factly about our upside-down finances without once meeting my gaze. My family lived comfortably but leanly in a mold and ant infested ranch-style house on the outskirts of Riverside, California, and I had believed in our middle-class illusion, despite watching my father cobble together an income as a used car salesman, college adjunct, and proprietor of several slowly declining businesses.
Love felt carefully budgeted, and so I worked hard to earn my father's affection and approval. As an 8-year-old, I took on many tasks without pay: I made small talk with customers, processed phone orders, packaged power supplies for shipping, and typed letters and invoices. My parents were my models for labor, and from them I learned a deep work ethic, as well as a blurring of the boundaries between work and home life. They spent the '80s and early '90s jumping from one business to another: gift retail, leather imports, security alarms, and computer parts. When Commodore computers lost their market appeal, my parents embarked on farming shiitake mushrooms. I can still remember them coming home in the early morning hours covered in mud from picking. But despite my family's financial instability, my life seemed carefree compared to my father's childhood in post-war Taiwan, which was overshadowed by poverty, starvation, and constant military occupation.
I left home for college at the age of 17, knowing I'd need to find my own way. Armed with a handful of scholarships that ran out during my junior year, I eventually borrowed more than $50,000 to complete my liberal arts undergraduate education, pursue my fantasy of becoming a writer at the Jack Kerouac School of Disembodied Poetics, and continue my journey in art school. The burden of going so deeply into debt in my 20s stunted me. I had slowly paid it off by my late 30s, but I had spent nearly 15 years in a constant state of paralysis about my finances. My daily anxieties ranged from whether I could pay rent to whether I could afford bus fare or gas, or put a postage stamp on a letter.
Years have gone by, and now that my partner and I have recently decided to buy our first home, I've realized the necessity of more deeply understanding my feelings toward obligation. Why, when it comes down to it, would I feel better about owing $450,000 to Fannie Mae than accepting the down payment offered by my parents?
I inherited a debt that can never be repaid: the debt of being born, and of choosing a life different from the one my parents wished for me.
The debt that I owe them is insurmountable and something that my father never ceases to remind me of. He cast off his culture, family, and identity to immigrate. His unshakable belief that human beings enter this world owing everything—their possessions, their karma, their lives—to their ancestors perpetuates a Confucian system of debt bondage that has haunted his entire life and pervaded mine. Like my father, who is indebted to his parents and the ancestors who first brought his family from China to Taiwan, I inherited a debt that can never be repaid: the debt of being born, and of choosing a life different from the one my parents wished for me.
When I married, I paid a small fraction of what I owed to my parents, and again when I gave my father a grandson, who will continue the family line. And yet the debt to my family continues to accrue, leading me to deep confusion about the worth of my work and the essential value of my life as a human being.
Despite that pain, I've been curious and eager to rethink it all. In my late 20s, I met a holistic healer and teacher through my literary community in Dallas. Dr. Gregg embodied abundance and the very opposite of the tallying of accounts and favors. He didn't operate from a fundamental position of scarcity but lived a life overflowing with richness. I watched him mentor and influence my partner as a holistic practitioner, as well as empower many others to break through their own pain and discomfort to find healing. And even today, Dr. Gregg remains my on-call go-to person for questions related to my son's health. He has never ceased to give his energy freely, in a way that has confirmed to me that the exchange between human beings is one that might be based not in economic imperatives—but in the act of love.
Through uncoupling my feelings about financial debt from the burden of family obligation, it becomes possible to imagine another life—one in which debt, along with its sibling, guilt, has lost its energetic potency and has been left to be buried with my ancestors. I try to picture interactions with my family that are free of duty and expectation, and I feel reassured knowing that this disquiet won't be passed on to my son, Tomo, as he owes me nothing.