How to Help Immigrant and Muslim Neighbors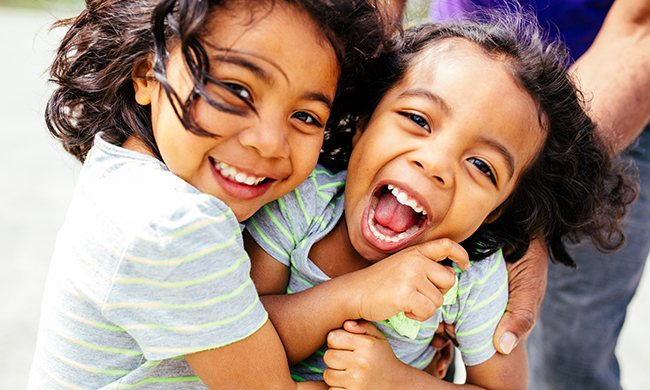 People are turning their frustrations with the Trump administration into actions that make a meaningful difference in the lives of vulnerable community members.
Why you can trust us
---
On Orcas Island in the Washington San Juans, a group of local residents is working with immigrants to create contingency plans for what will happen to children if their parents are unexpectedly picked up, detained, or deported.
And in a small-town West Virginia classroom, Cynthia Evarts is using articles and books about refugees—a young girl from Vietnam, boy soldiers in Sierra Leone—hoping, she said, to give her students a perspective different from the ones they may get at home.
President Trump's executive orders targeting immigrants have riled a nation, inspiring many to look beyond the marches and big rallies for local actions they can take to make a meaningful difference in people's lives.
Turn your anger into action!


Posted by YES! Magazine on Tuesday, June 27, 2017
It's happening not just in the big cities but in the nation's heartland—even in Amish Country—where immigrants and refugees increasingly are settling down. "Whether it's been on the streets marching and demonstrating or outreach they've made to refugees and Muslims in their communities, the American people are saying these are the values that we embrace, that are important to who we are as human beings, and we will not allow them to be discarded," said Bill Frelick, New York-based director of the Refugee Rights Program at the Human Rights Watch.
Donations are pouring into organizations that support and defend civil rights, particularly groups like the American Civil Liberties Union. And there has been such a crush of people offering to volunteer, national and local progressive organizations are at a loss for how to use them all.
Americans who might have once struggled to name their U.S. senators and representatives are flooding mailboxes and jamming phone lines into Congress.
And days after a massive show of legal force led to the release of detained travelers nationwide, immigration attorneys from Seattle to New York are still staked out at airports to ensure help is available for passengers who need it.
People are turning their anger into action, borrowing in some cases from the 10 Actions, 100 Days campaign of the women's marches, finding ways to connect with and support immigrant and Muslim neighbors and communities.
Here are five ways you can help.
1. Get to know Muslims and immigrants in your community.
It's easier for Americans to hold anti-Islamic views when they don't personally know any Muslims, said Aneelah Afzali, executive director of the American Muslim Empowerment Network. She believes that it's only by creating personal connections with those we don't know that we begin to change hearts and minds.
An initiative that grew out of post-election vandalism at the Muslim Association of Puget Sound mosque in Redmond, Washington, the network is a collaborative effort aimed at bridging gaps between communities and elevating Muslim voices.
As its director, Afzali has been relentless, appearing at rallies and marches and at civil rights and interfaith events, speaking of the Muslim experience. She encourages people to visit a mosque and to learn what Islam is and isn't.
One way to help educate people, she and other Muslim leaders say, is for those with Muslim friends, neighbors, and co-workers to post to social media and write to newspapers about the contributions of the Muslims they know.
Reaching young people is vital.
At a workshop last month that MAPS-AMEN co-sponsored with an interfaith youth movement called Kids4Peace, middle and high school students of different religions and backgrounds learned about Islam and worked with writing coaches to develop stories—their own and those of Muslims they knew. They later shared those stories with an audience of more than 100 people.
Afzali said the plan is to try to get some of their stories published.
"Some of these kids have written letters to the administration asking why Muslims are being targeted," she said. "That's the kind of powerful impact personalization can have."
2. Take action, together.
Writing and calling members of Congress is a popular strategy right now, and some people are turning it into a party. That's what Mary Bruce and a group of her friends did in the days following the massive Women's March on Washington.
They planned to host a postcard party at their favorite neighborhood restaurant, the Potter's House. But interest in the event ballooned after they posted it on social media, forcing them to search for nearby venues to accommodate the 800-plus who said they were coming.
They set up phone lines for people to call the offices of senators and representatives. For many, it was the first time calling or writing lawmakers.
Bruce said they encouraged people to identify a congressional district they had a connection with—maybe where they grew up or where their parents lived—and to write senators and representatives, regardless of party affiliation. Beyond support for immigrants, people wrote on a range of big issues: education, the environment, women's reproductive rights. In the end, she mailed more than 1,200 post cards to members from both houses from 40-plus states.
"These are hard and uncertain times, and for a lot of people, very scary," said Bruce, an independent consultant in D.C.
"People were upset about the executive orders and concerned for family, friends, and their communities. D.C has a large immigrant community, and many people are here on different kinds of visas. [The evening] was alive … with people telling their stories."
3. Protect your immigrant neighbors.
In conservative Eastern Washington, where large numbers of migrant farm workers are without documents, some local citizens are in early discussions about ways to protect them.
Immigration lawyers believe big worksite and other raids, which ended under President Obama, could return as part of Trump's strategy to remove undocumented immigrants. Citizens in one Eastern Washington community are planning to have teams of people, operating in shifts, accompany immigrants to the court house, when necessary, or to the farm fields where they work, providing a sort of human shield between immigrants and immigration officers.
"In an area that depends on agricultural laborers, if an ICE [Immigration and Customs Enforcement] car is spotted in the area, people stay home rather than take a chance on meeting ICE in their workplace," one organizer said.
For obvious reasons, they are keeping their location and identities secret.
4. Educate yourself on immigrants' rights.
Immigrant allies could consider attending Know Your Rights trainings to understand what rights immigrants have, suggests Pavan Vangipuram of Seattle-based OneAmerica. While such trainings, conducted by immigration lawyers and immigrant groups, are generally designed to educate undocumented immigrants of their rights, supportive citizens might find the training useful, too.
Supporters could also ask an attorney to make a presentation at their church or community center.
Additionally, if you are a service provider, teacher, or health care worker who works with immigrants, find a workshop that teaches specifically about immigration rights. The Seattle-based Northwest Immigrant Rights Project, which was among the legal groups working to free foreign travelers impacted by Trump's Muslim bans, regularly conducts such immigration workshops.
5. Help families to plan ahead.
On Orcas Island, Eleanor Hoague is among a group of local residents helping the small population of immigrants there to create a safety plan for their children in the event the parents are picked up and deported. Information about how to establish such a directive is increasingly becoming part of Know Your Rights trainings.
A sample plan from the Legal Counsel for Youth and Children, for example, guides parents on how to establish who would pick a child up from school if parents are picked up and who would be given legal authority to make decisions on the child's behalf.
"It's a matter of figuring out where they would live [and] who among the relatives they have here would not be deported," said Hoague, a retired immigration attorney. "There's no question there's now more urgency."
---
| | |
| --- | --- |
| | Lornet Turnbull is the former civil liberties editor for YES!, a Seattle-based freelance writer, and a regional freelance writer for The Washington Post. An award-winning enterprise reporter who's worked in media for more than 20 years, Lornet has covered everything from the auto industry and labor unions in Michigan, to real estate and statehouse politics in Ohio, to homelessness in Seattle, to refugee children in the West Bank, and sex workers in Mexico City. She speaks English. |
---