Opinion Advocates for ideas and draws conclusions based on the author/producer's interpretation of facts and data.
100 Years After the Tulsa Race Massacre, What Have We Learned?
Why you can trust us
---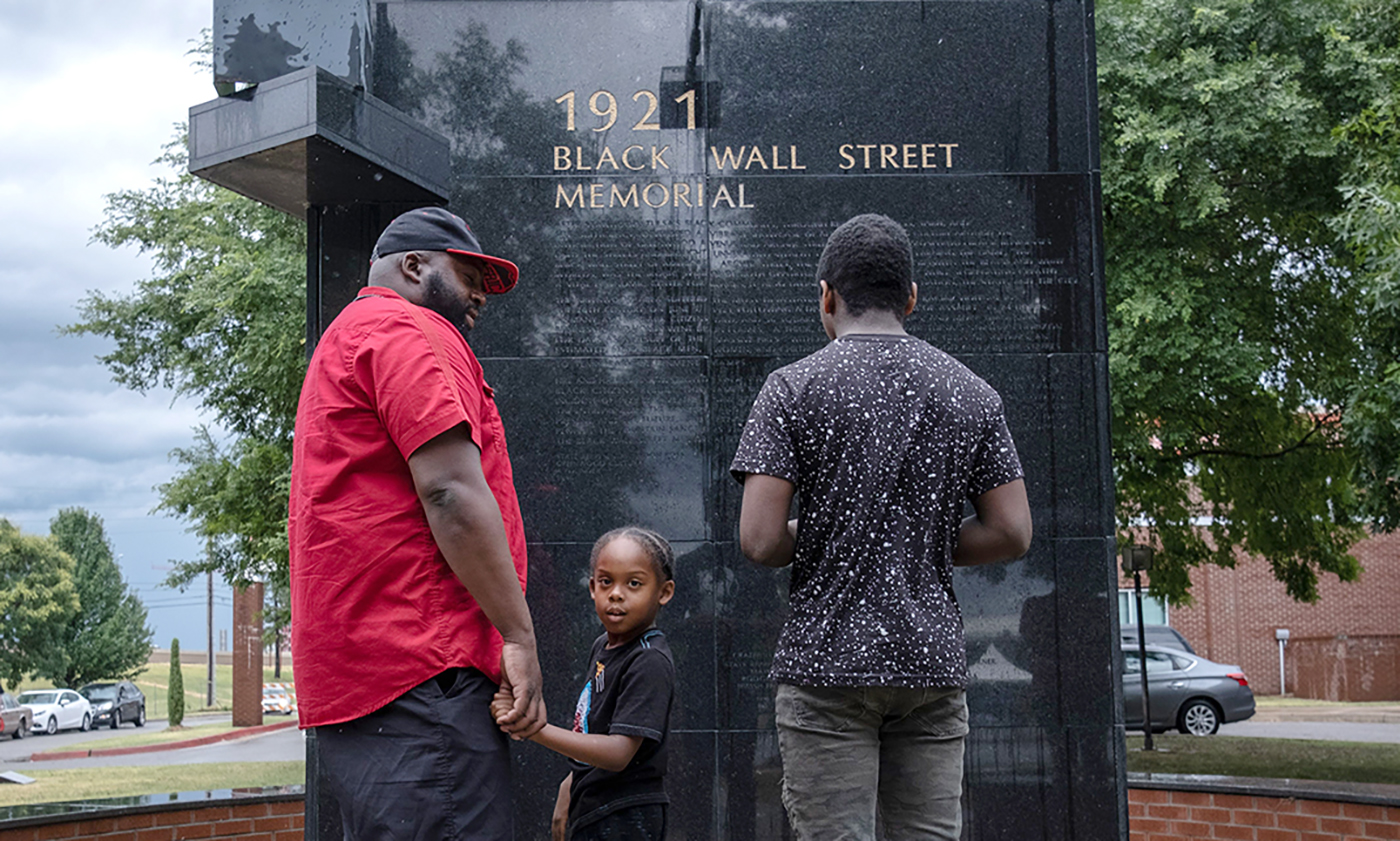 PHOTO BY SETH HERALD/AFP/GETTY IMAGES

I will never forget the violence of the white mob when we left our home. I still see Black men being shot, black bodies lying in the street. I still smell smoke and see fire. I still see Black businesses being burned. I still hear airplanes flying overhead. I hear the screams. Our country may forget this history, but I cannot. I will not and other survivors do not and our descendants do not.
-Viola Fletcher, 107-year-old survivor of Tulsa Massacre.
On May 30, 1921, a 19-year-old Black shoeshiner entered an elevator at the Drexel Building in downtown Tulsa, Oklahoma. His name was Dick Rowland. He was on his way to the top floor where the "colored" bathroom was located. 
The elevator operator, a 17-year-old White girl named Sarah Page, was the only other person on the elevator.
On the way up, Page screamed.
Some say Rowland tried to assault her. Others say he tripped and grabbed her arm as he was falling, causing her to scream.
Still today, there's debate. But there is no debate about Page not wanting to press charges—which lends itself to the interpretation that she acknowledged Rowland was not attempting to assault her.
What's also not at issue is that their encounter would lead to a race riot—a massacre—that would bring about dozens (perhaps hundreds) of deaths, and the obliteration of the most successful African American business district in the country at that time—Greenwood.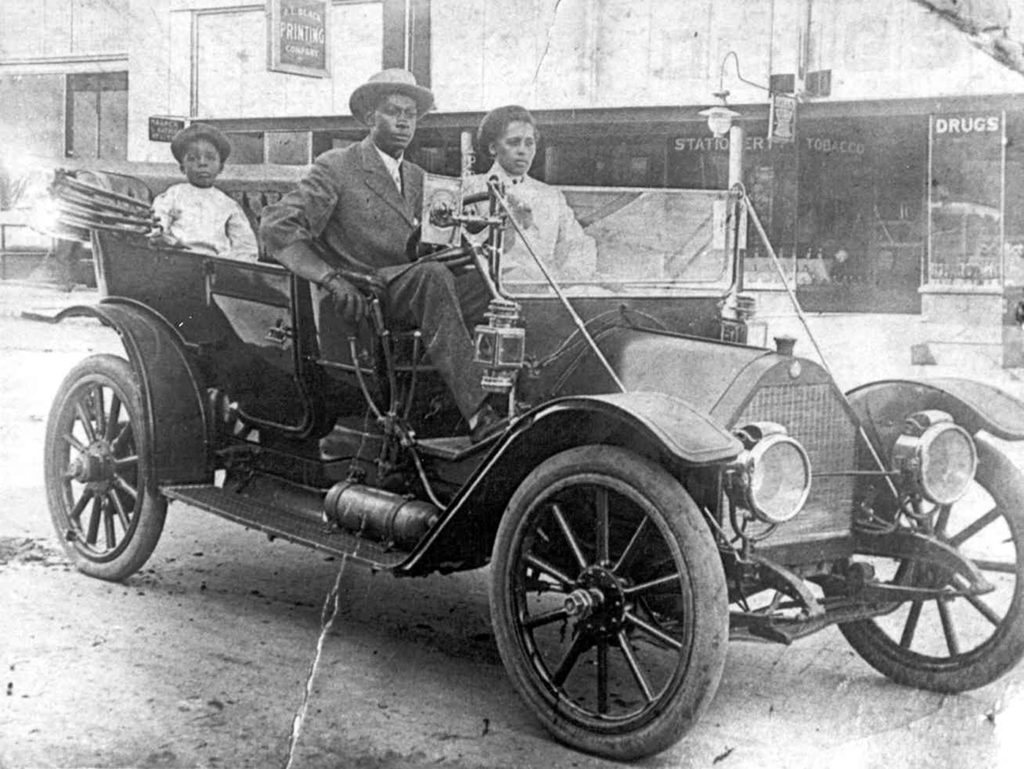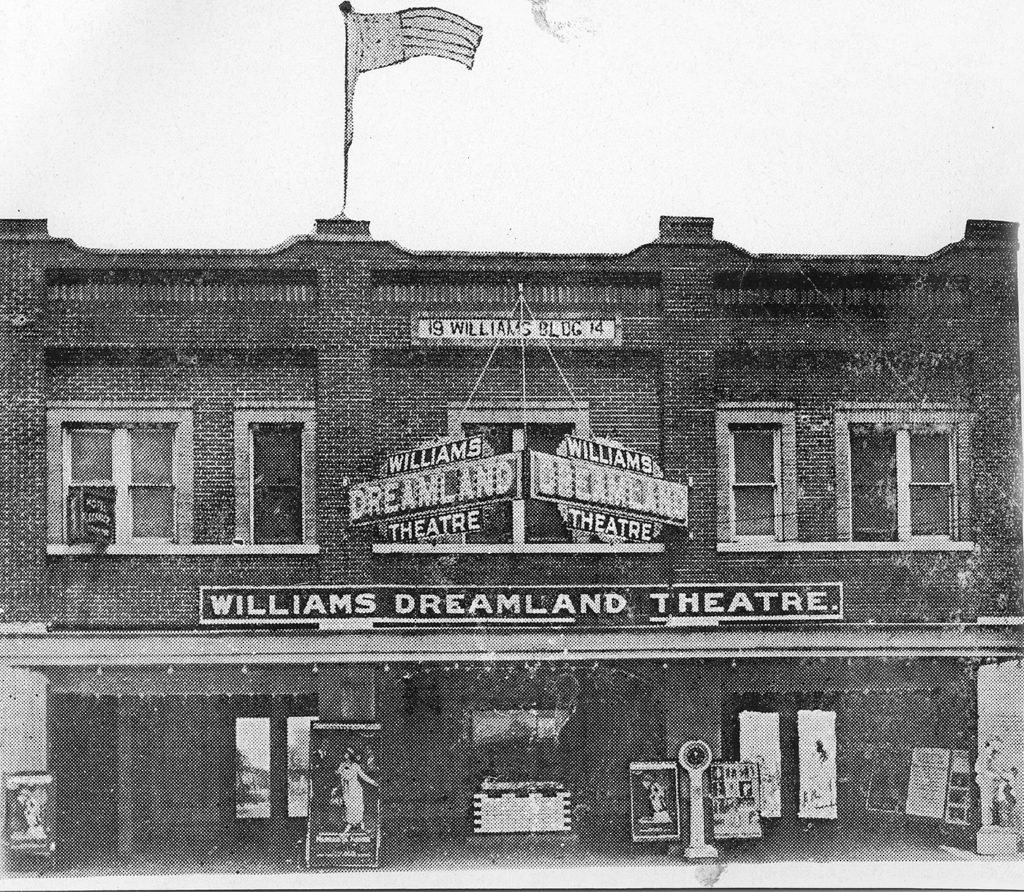 From Removal to Oklahoma
The earliest Black settlers in Oklahoma came because of the "Indian Removal" policies of the United States government, specifically the Indian Removal Act, which was championed by President Andrew Jackson and signed into law in 1830. 
In 1831, President Jackson selected then-Michigan U.S. Sen. Lewis Cass as his Secretary of War. Cass would be the primary official to implement the forced removal of thousands of Indigenous peoples, especially from the southeastern region of the U.S. to Oklahoma. Their land was seized by the U.S. government and given and sold to White settlers to facilitate the slavery-based cotton plantation economy.
Most prominent of the Native Americans who were forced into Oklahoma in what is called the Trail of Tears, were the so-called Five Civilized Tribes—the Choctaw, the Chickasaw, the Creek, the Cherokee, and the Seminoles. Members of these nations, especially the Cherokee, owned thousands of enslaved Black people. 
At the same time, many Africans who escaped from slavery, especially from Georgia and the Carolinas, ran away to Florida, and joined the Seminoles, in some cases becoming a part of the Seminole nation. When the Indigenous people were forced into Oklahoma, thousands of Black people went with them.
From the time Africans were forcibly brought to the Americas on slave ships, Black people have been trying to get away from racist White people, their culture, and their laws, to create their own community where they can be self-determined, self-sufficient human beings who are able to exhibit their own culture and control their own destinies. 
After the Civil War, Ohio Republican Congressman William Lawrence introduced a bill to create the Territory of Lincoln—a settlement for freed African Americans—in what is now the state of Oklahoma. The bill stated all territorial officers and voters were initially to be "American citizens of African descent." When the bill didn't pass in 1866, he merely reintroduced it in 1867. 
It still didn't pass. In fact, the bill never made it out of committee—it was never voted on. Eventually it died and the number of White settlers continued to grow.
The Movement to Establish an All-Black State
Many African Americans stayed in the South and became sharecroppers and tenant farmers for the same plantation owners who were their former enslavers.
But not all.
Benjamin "Pap" Singleton, who was born into slavery in Tennessee, repeatedly tried to escape. In 1846, while in his 30s, he was successful.
Through the Underground Railroad, he made it to what is now Windsor, Canada. He later returned to the United States and lived in Detroit, joining the Detroit abolitionist group—the Colored Vigilant Committee—until the outbreak of the Civil War in 1861.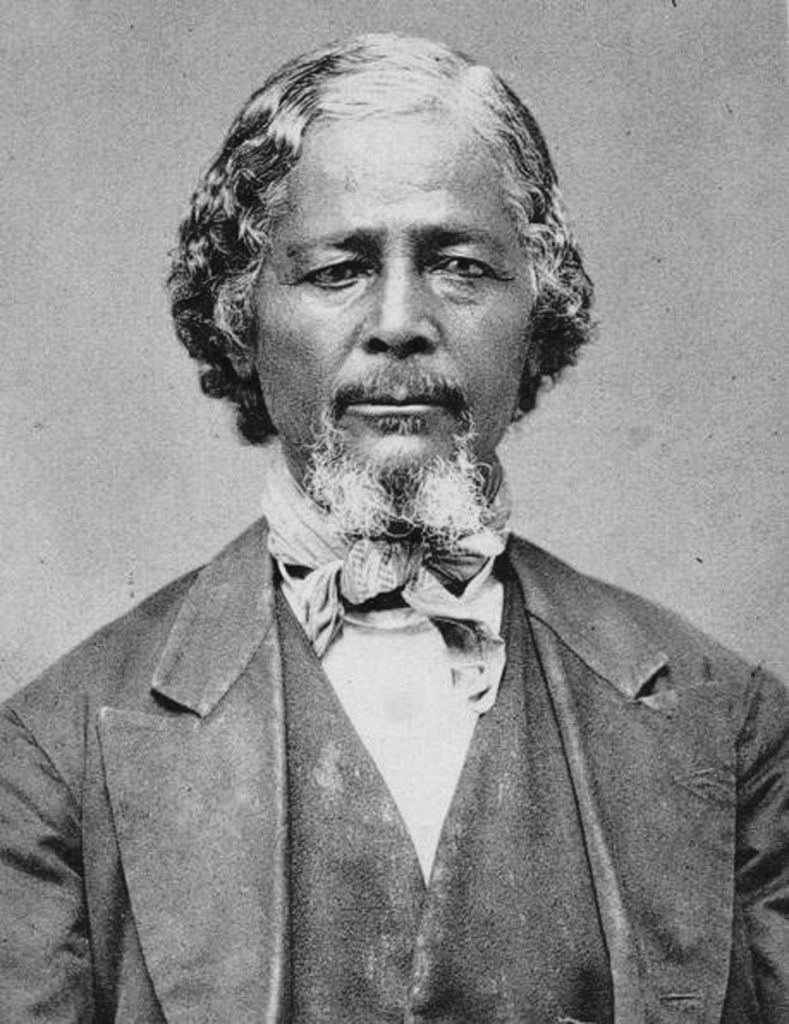 Along with his job as a scrap collector, Singleton worked with the Colored Vigilant Committee as an agent on the Underground Railroad. After the Second Confiscation Act was passed during the Civil War, which declared that Union Soldiers would take possession of Confederate properties—including enslaved Africans—he went back to Tennessee in July 1862. 
His return to Tennessee during the Union occupation in 1862 did not bring optimism. Instead, he eventually concluded that Black people would never achieve economic equality in the White-dominated South. 
Singleton is one of many Black people who sought to establish all-Black settlements and towns—even an all-Black state—as a means to achieve and realize true freedom without having to constantly battle against anti-Black racism. The movement was widespread then, but is mostly unknown today.
Greenwood, in Tulsa, Oklahoma, would one day become a famous "freedmen's town." Maybe the most famous.
Although Singleton was mainly active in creating Black towns in Kansas, more "freedmen's towns" were founded in Oklahoma than in any other state. One of the reasons why Oklahoma had so many is that, along with the history of the Indian Removal Act, by the 1880s, there was a renewed effort to continue Rep. William Lawrence's fight to establish an all-Black state in what is now Oklahoma. The movement, though, was always much bigger than just him.
Edward McCabe, an African American attorney and politician, would become another pivotal actor in the movement for an all-Black state in Oklahoma.
After a failed lobbying effort to get President Benjamin Harrison to select him as the territorial governor of the Oklahoma Territory, McCabe moved to an unincorporated area near Guthrie, Oklahoma, where he'd obtained 320 acres of land. He would become the founder of the all-Black town of Langston, Oklahoma.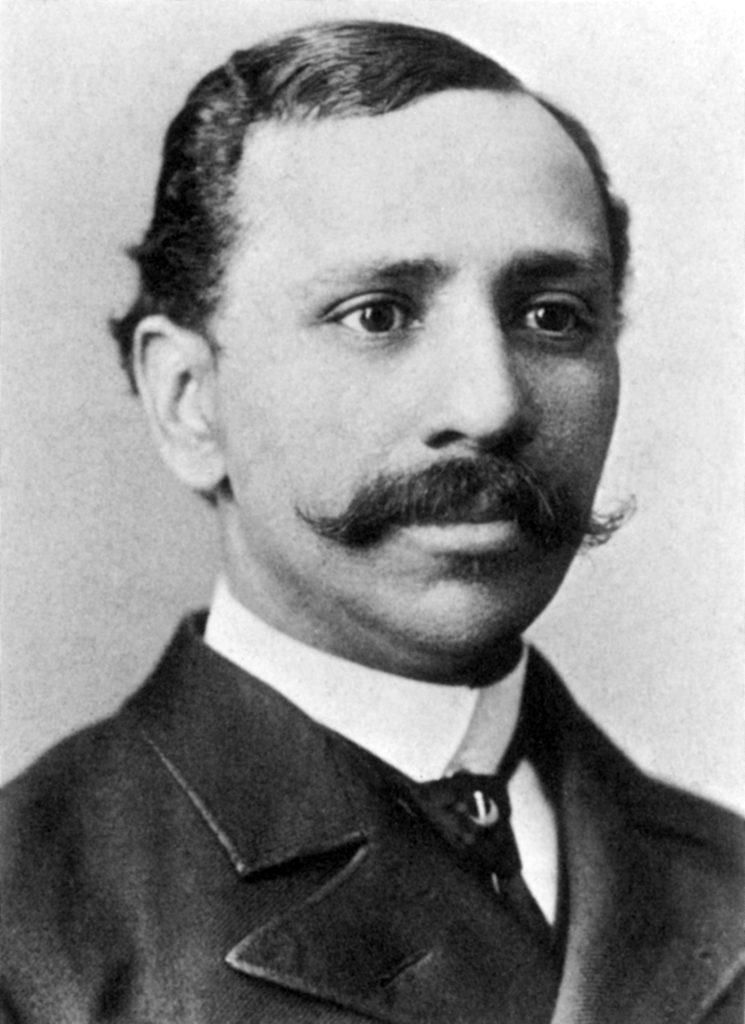 Langston, founded in 1890, is where the historically Black college, Langston University, founded seven years later, is located. The town and college are named after John Mercer Langston, the prominent Black abolitionist and attorney who served in the House of Representatives during Reconstruction, and went on to be an ambassador, a civil rights activist, and the founder of Howard University Law School.
We Didn't Get "Lincoln," but We Got "Langston"
When Pap Singleton died in 1900, he and many others were working toward creating an all-Black state in a portion of Oklahoma, just after the first Land Rush or Land Run began in the Oklahoma Territory in 1889 (it lasted through 1901). African Americans had been coming to Oklahoma since 1830, and from 1856-1920, had established more than 50 Black towns there. Thirteen of them still exist, including Boley, Rentiesville, and Langston. 
In 1889, Ottaway "O.W." Gurley came to Oklahoma. Settling in the town of Perry, he would end up becoming a school principal and the owner of a general store.
While O.W. Gurley was still in Perry, entrepreneurs John Stradford and his wife (in some records she is called "Augusta," in others, she is called "Bertie,") moved to Tulsa from the South, where they owned a string of businesses from pool halls in Kentucky to boardinghouses in St. Louis. The Stradfords were now ready to be a part of the Black business boom, partly spurred by the oil business, in Oklahoma. 

When they arrived, they bought acres and acres of land, then subdivided it, selling it to other Black people moving into the area. When Gurley moved to Tulsa in 1905, he copied the Stradfords' business practice. Along with buying large tracts of land and selling it to fellow African Americans, he opened a boardinghouse, bought a farm, had offices built, and founded Vernon A.M.E. Church (Vernon is the only building still standing after the race riot).
Both Gurley and the Stradfords would lose everything in the race riot—their businesses, their livelihood, their prominent status. And Stradford, for a short period, would lose his freedom. 
When the White mob came into the Greenwood District, they looted the businesses, set fire to the buildings and homes, dropped turpentine bombs from planes on the buildings from above, and killed Black people.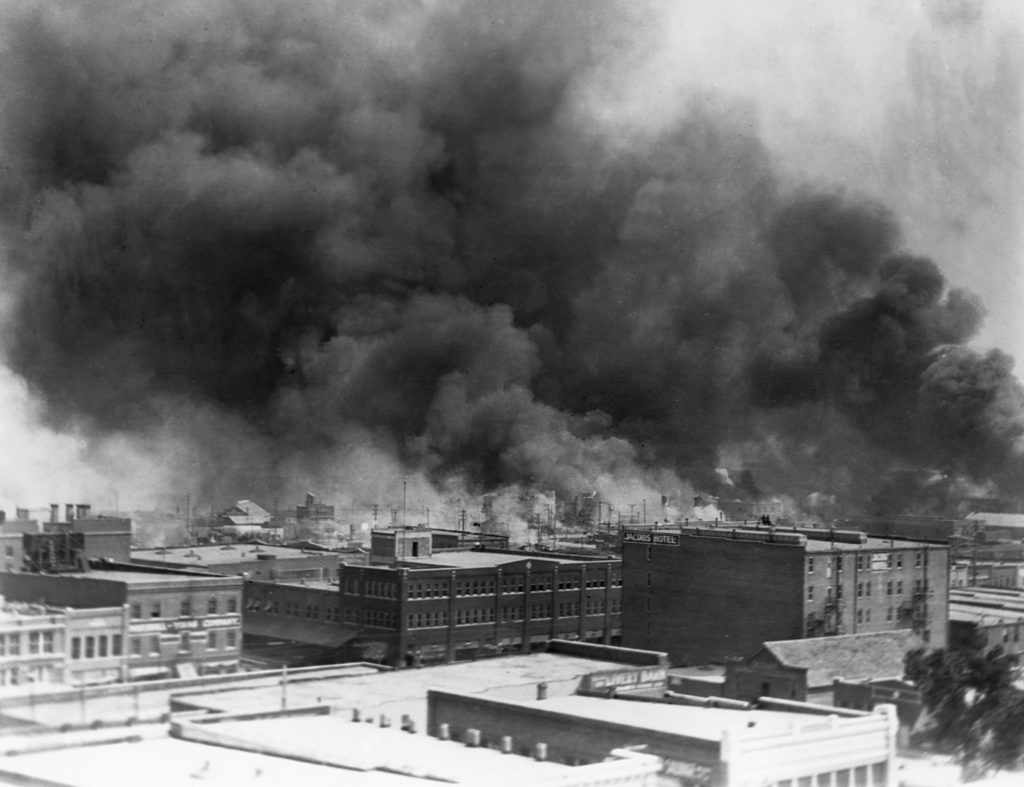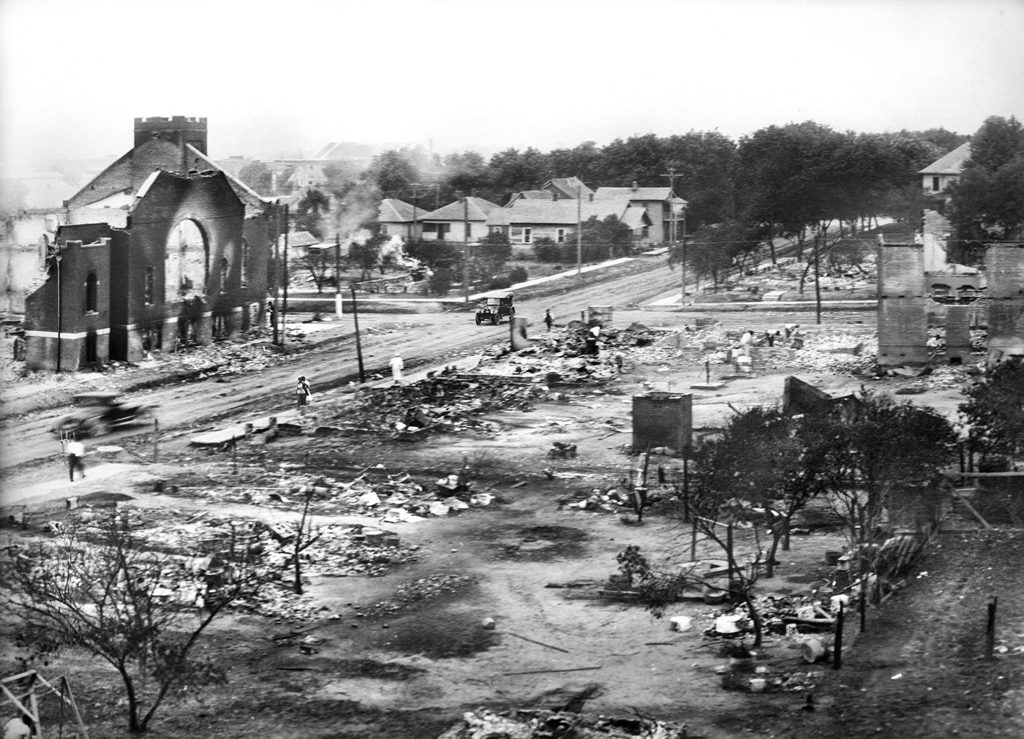 Like so many other successful Black communities, including Rosewood, Florida, Whites resented the wealth and success of African Americans, as well as their boldness in asserting their humanity and demands for equality. As the state of Oklahoma and the White-run counties and cities grew, they passed more and more Jim Crow laws, began to block African Americans from voting, and denied African Americans civil rights. 
Long before the Tulsa Race Riot of 1921, many Whites had been on the verge of committing a massive violent attack on the upscale Black community in Greenwood. They were waiting for a push, an excuse—there had been White resistance, including the re-emergence of the Ku Klux Klan, for years leading up to 1921—and they didn't need much. 
Black people fought back, but the police joined the mob and arrested African Americans who were defending themselves and others. Even those African Americans who were armed were not enough to meet this much larger, more armed White group.
Some estimate Black casualties to have been as high as 300 people.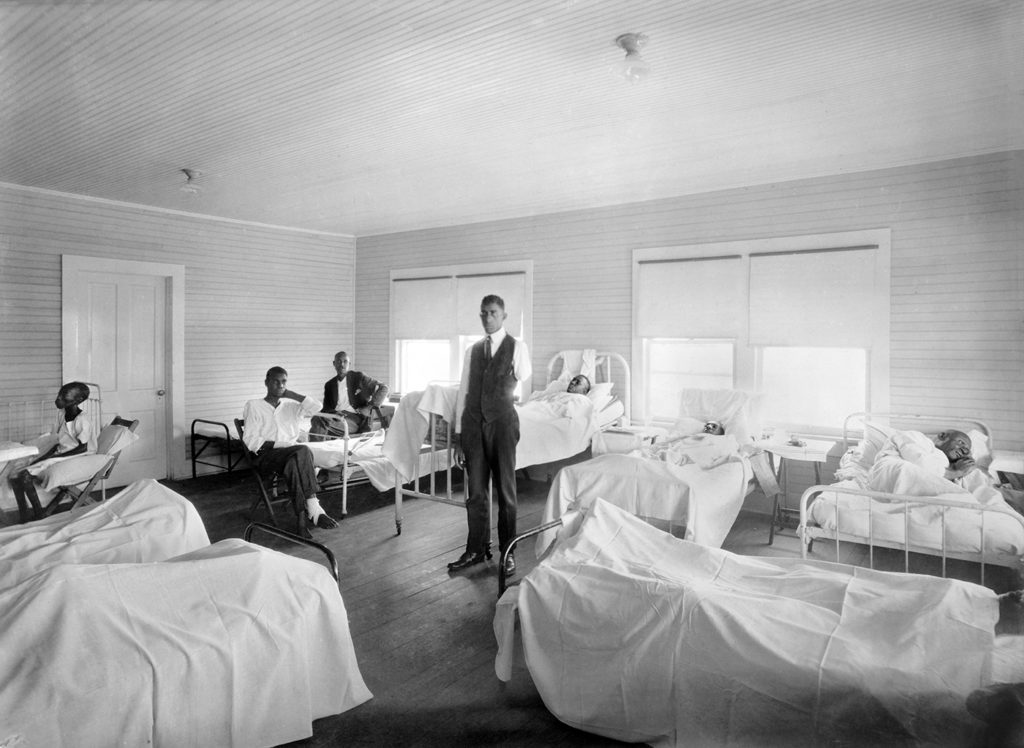 O.W. Gurley's hotel, his café, his pool hall, as well as his nearly 100 properties, would be destroyed. Gurley was worth about $1 million then, which is about $15 million today. After the race riot, O.W. Gurley left Tulsa for Los Angeles, where he and his wife, Emma Gurley, would open a small hotel. He died in 1935 at age 67.
John Stradford, who came to the police station, armed, and also was armed in front of his hotel—the Stradford Hotel—was arrested for "inciting a riot." His son paid his bail, and when he was released, he escaped. He eventually relocated to Chicago. He attempted to build a hotel business, but that failed. He also died in 1935, at age 74.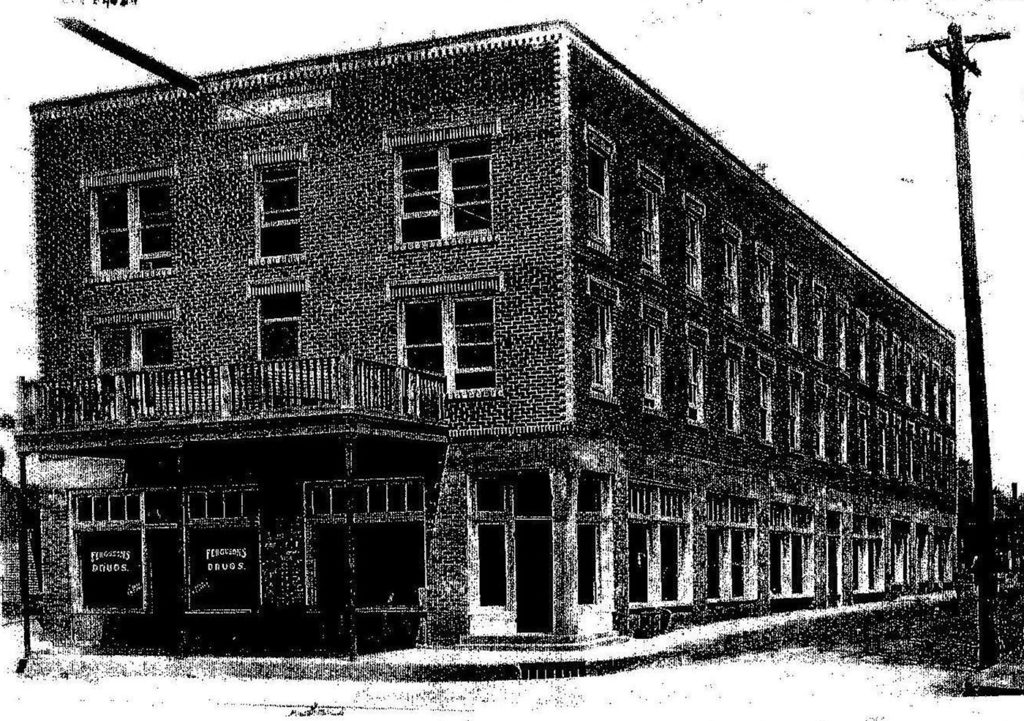 As we observe the 100th anniversary of the destruction and learn of the movements to rebuild Black Wall Street, it is important that we know this history and the aforementioned people instrumental in its building, as well as the personal and property damage that took place.
We need to understand it it to truly understand the anti-Black racism, inequity, and inequality that exists in the U.S. today.
Black incompetence and corruption didn't create these all-Black towns and this Black success, as has been believed over many years, but rather it was White racist violence that burned it to the ground in places like Greenwood.
Rebuilding: We Have to Know to Grow
On Memorial Day, May 30, Dick Rowland got on an elevator. A White girl screamed.

On May 31, a race riot began.
On June 1, Black Wall Street was gone.
How quickly it all happened helps us understand how deep-seated the hatred and resentment for Black excellence was. 
And now, as we reach the 100-year commemoration of this massacre, and recognize and support the effort and movements to rebuild, we should take this moment to reflect on the following:
• Why did it happen?
• Why is this story, and others like it from the era—the St. Louis Race Riot of 1917, the Red Summer of 1919, and the Rosewood Race Massacre of 1923— not taught in schools and textbooks?
• Why don't we know about the many successful Black communities that were created in the United States during and after slavery, and why don't we know what happened to most of them?
• Why have no reparations been paid to the survivors or their direct descendants?
All of these questions have one answer: White supremacy.
Maybe you don't like that term. You may prefer structural, systemic, or institutional racism. Those words are fine, but what they don't address is who implemented these structures and who continues to hold the power that keeps them going. Who benefits from the structure of structural racism?
Powerful members of the White community created the "system" of systemic racism that assigns a level of superiority to White people, no matter their economic or educational background.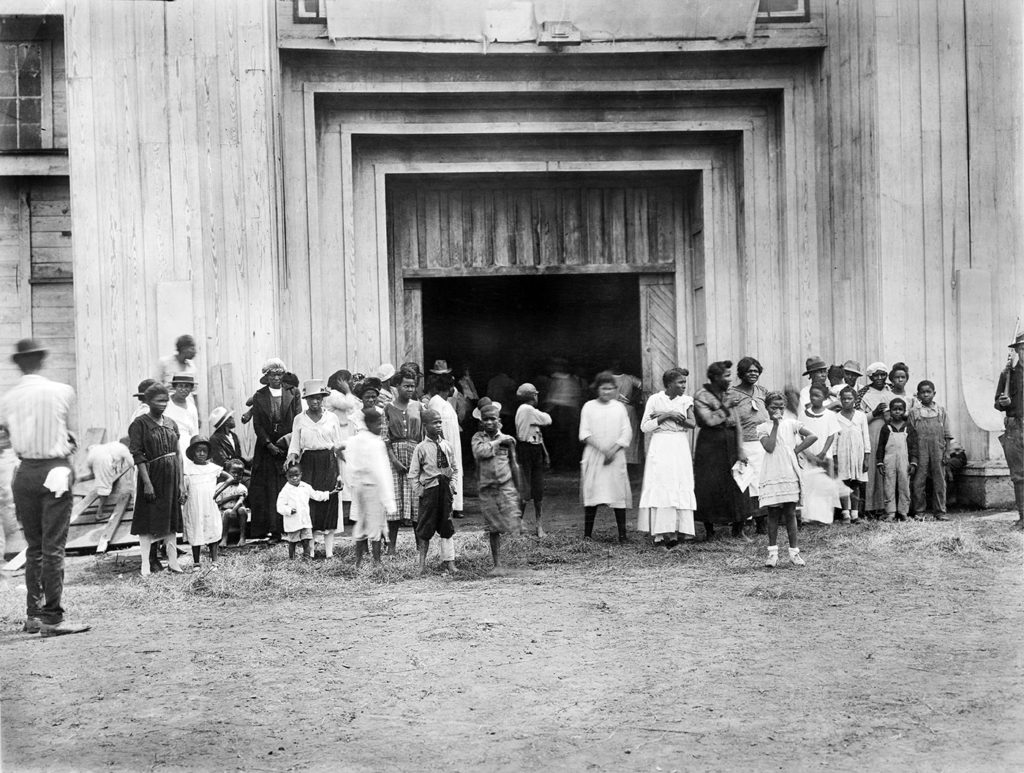 White supremacy is at the root of the Tulsa Race Massacre, and it perpetuates the thinking today that minimizes the significance of the wiping out of Greenwood and other successful Black communities.
It is the reason enslaved Africans created maroon communities.
The raw understanding of White supremacy is why Pap Singleton abandoned Tennessee and moved to Kansas to set up all-Black towns. It is why Edward McCabe sought to establish Oklahoma as an all-Black state.
It's the reason that some Black nationalists and Pan Africanists sought a return to Africa.
So here we are, 100 years after Greenwood burned, and we are still fighting White supremacy.
Why? Or more importantly, when will we stop?
To know the history of what happened in Tulsa in the days after Memorial Day in 1921 is to know the power of White supremacy—and be motivated to dismantle it.
To understand the history and this power is to understand the United States of America, and ourselves. When we do that, we will be able to have a national call for repair: reparations for slavery, for Jim Crow, for lynchings, for housing discrimination, for education inequality, etc. And for race-based massacres such as Greenwood.
---
Jamon Jordan

is an educator, writer, and historian, who has been a researcher of African and African American history for more than 20 years. He is founder and CEO of Black Scroll Network History & Tours in Detroit, where he leads tours and presentations on African and African American history. 
---