News Based on facts, either observed and verified directly by the reporter, or reported and verified from knowledgeable sources.
How a Seattle Neighborhood Confronted Food Insecurity in the Pandemic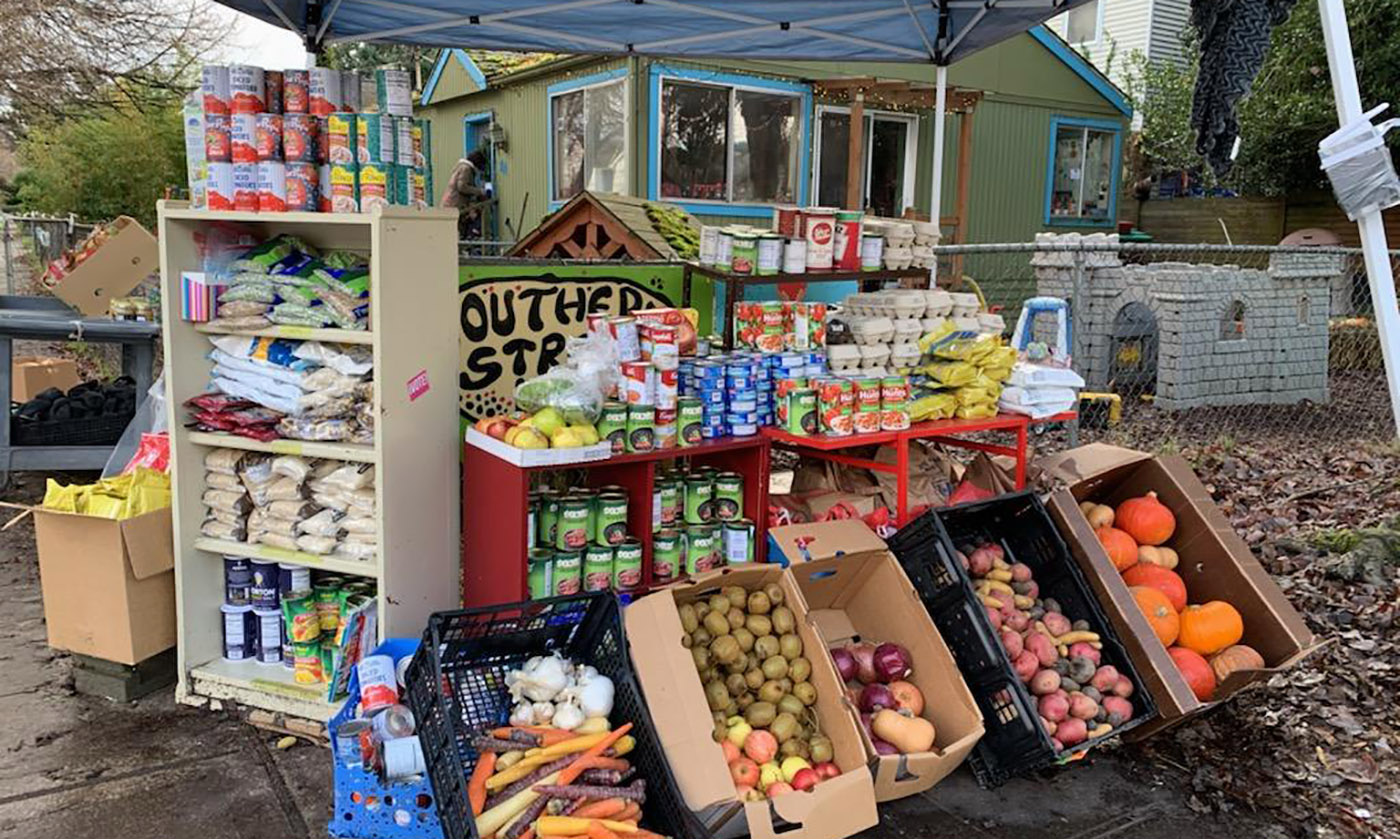 Photo by Monica Perez
Seattle's square-mile neighborhood of South Park has turned its early pandemic community supports into a sustainable system tackling food insecurity.
Why you can trust us
---
When the coronavirus pandemic hit the United States a year ago and Washington Gov. Jay Inslee ordered people to shelter in place, the folks at the community center in Seattle's South Park neighborhood worried about how they'd continue to serve its residents.
The center is a hub in this neighborhood with its rich, complex history of stubborn resistance—a place where residents, in better days, could gather for community meetings, cook meals that reflected their cultural diversity, play sports, practice yoga, and where young people could go before and after school for a flurry of activities, including Teen Late Night.
The governor's order brought all that to a halt: "There was a lot of 'what do we do now?' says Sam Chesneau, site lead at the community center.
At the same time, Wasat, a Seattle nonprofit organization on whose board Chesneau sits, was facing similar challenges in providing hot meals to those in need after its main benefactor shut down because of COVID.
"We started thinking, how do we transition this work into something we can actually do, given all the constraints?" Chesneau says. "How can we provide that safety, where we're not putting people in harm's way or [at] risk, during the early stages when we were still figuring it all out?"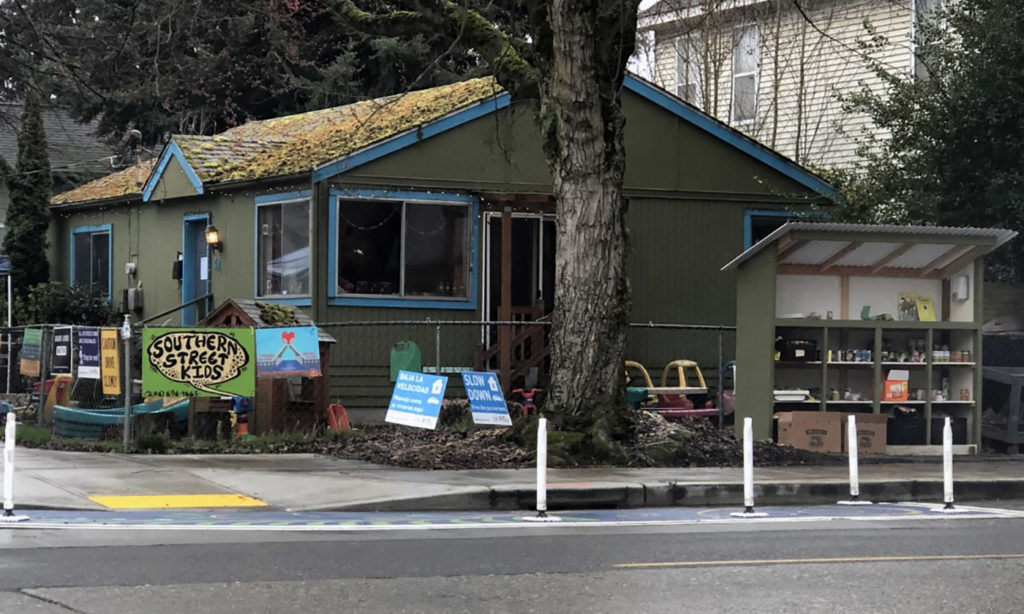 Part of the answer lay not far away, where a South Park restaurant, Golas, was pondering how it would continue amid a shutdown. Run by Czech and Filipino immigrants, Golas struck a deal with Wasat and the community center to prepare and box the hot meals, paid for by Wasat ("middle" in Arabic). A tent was set up outside the community center where residents, practicing social distancing, could pick up the meals.
This kind of coordinated mutual aid early in the pandemic has continued to expand, encircling the neighborhood to this day.
Over the past year, more than 20 food supply organizations have contributed in one form or another to providing hot meals to residents through the community center.
Neighborhood sharing tables that went up just before the governor's order have expanded; some have been converted into sharing sheds and some have adjacent refrigerators. These pantries supply everything from pre-made sandwiches to socks, sourced not only from the broad network of organizations, but also from South Park residents themselves, who have helped contribute $20,000 (so far) to keep them stocked.
Local fundraising efforts to help South Park residents pay their bills and stay in their homes have also grown, along with the need, says Lashanna Williams, an active South Park resident.
And the South Park Arts and Culture Collective, a program of the local nonprofit Cultivate South Park, has been keeping young people engaged through music and art, while the Urban Fresh Food Collective, another Cultivate South Park program, distributes free groceries every Thursday at the Mercadito ("little market"), and provides free boxes of food every other Friday at the community center.
"South Park represents this idea of solidarity, not charity," said Jessica Gasperini, a longtime South Park resident who operates one of the five sharing stations, with an adjacent community refrigerator. "It's not about, you know, sitting in a position of power or privilege and doling out charitable deeds and goods," says Gasperini. "It's really about togetherness and locking arms and making sure that we all survive."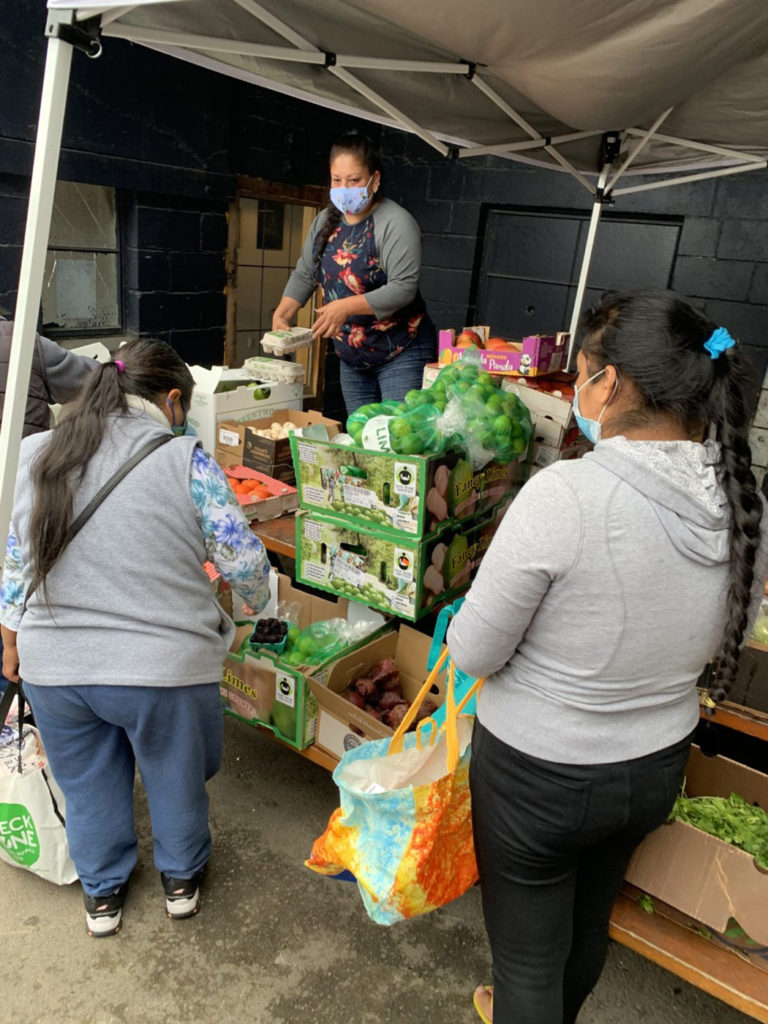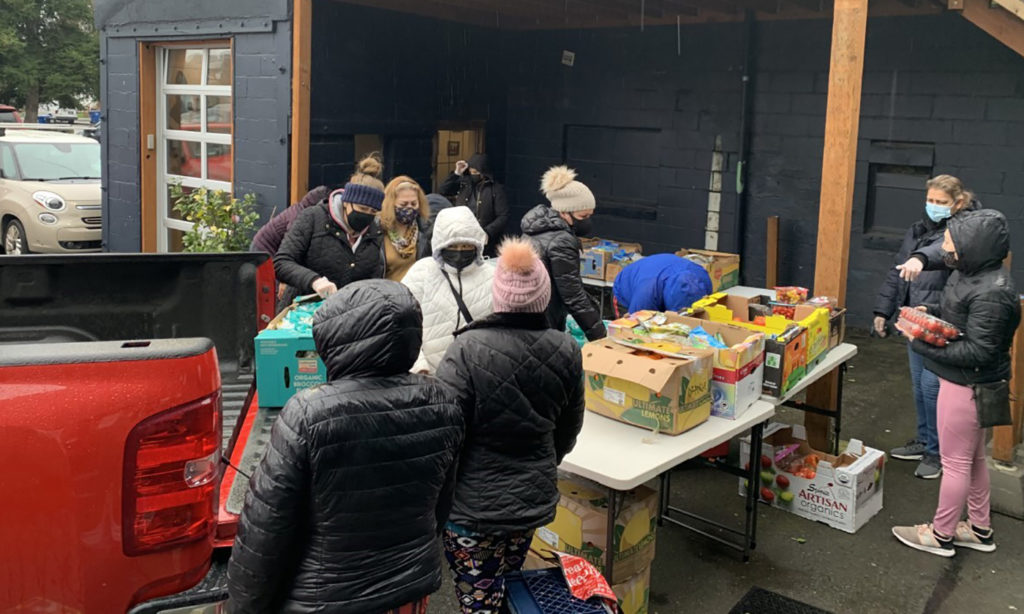 "We'll Come Out Better For It"
A gritty, square-mile pocket of about 3,500 residents and Seattle's most diverse neighborhood based on 2010 Census data, South Park is home to a patchwork of houses, factories, and warehouses along the Duwamish River in south Seattle. The pandemic is affecting people there much like it is people everywhere else: many residents are struggling with food insecurity and, without jobs, are struggling to pay their bills; too many have lost their homes to new development or eviction, and residents say homelessness has increased.
But the people of South Park know how to push back—they have always known. Ignored over the years by those in power, sustained activism became part of their legacy. They've seen and weathered many of these challenges before. COVID became just another one.
"It feels like we've gotten so much closer," says Shawna Murphy, who moved to the neighborhood 17 years ago when she was pregnant with her first child. An active volunteer, she was among the first to set up a sharing table when the pandemic hit.
"Sure, there are those who are isolating and crossing the street, but the rest of the people who have gotten close are very, very tight," she says. "There's so much community going on and I think we'll come out better for it."
Addressing Food Insecurity
A year ago, when the community center handed out that first round of hot meals, Chesneau says organizers had prepared food for about 100 to 150 people. When they ran out with people still in line, they decided to set time limits.
When groups supporting the neighborhood sharing tables learned about the weekly meals, organizers from both sides agreed to align their efforts in a mass-messaging strategy, where residents who came for one learned about the other.
"And so it went from once a week to three times a week right away," Chesneau says.
During the holy month of Ramadan, the community center worked with Wasat to provide nightly meals to the area's Muslim community. Neighborhood residents who came for the weekly hot meals were given boxes of produce or dairy supplied by Food Lifeline, a Seattle food bank supplier. Until June, when neighboring communities began creating their own meal programs, it was rare the center didn't run out of food, Chesneau says.
Concern over food insecurity is not new here. That's one of the things that Chesneau says equipped South Park to respond to this pandemic so effectively. "That is not to absolve [the system that caused the insecurity]," he says, "but you have a special spirit and heart of community that looks out for one another because of it."
After the owners of Golas moved from Seattle, other local restaurants and catering services jostled for a chance to provide food at the center. And over the past year, Chesneau estimates, the program has worked with more than 20 such outlets, and distributed close to 14,000 free meals.
"There's not necessarily any one organization that has spearheaded this; we wouldn't have been able to do it without any of them," he says, ticking off a list of several groups the center has depended on, including Seattle Parks and Recreation, which owns the community center.
"It's a real demonstration of what community can look like."
Sharing the Love
The sprawling collective of nonprofits, businesses, and volunteers that help feed people at the community center also advocates for and supports the neighborhood in other ways—like providing shelf-stable and perishable foods, as well as dry goods, to the neighborhood's five sharing sheds, tables, and two refrigerators.
Gasperini, who operates one shed, moved to South Park 15 years ago because it was affordable at a time housing prices in Seattle were skyrocketing. She loved the diversity and neighborliness of Seattle's only river community, and while she didn't volunteer, she felt a deep and instant connection to the neighborhood. When she was laid off from her job at a startup early in the pandemic, she felt the timing was right to get into something more meaningful.
Her husband, Ryland, a carpenter by trade, built sheds to replace two of the sharing tables that had gone up around the neighborhood, and built one at their own home, too. And when she learned about the community fridge movement, a national mutual aid effort that sets up refrigerators with food in neighborhoods across the country, she decided to add one alongside their shed.
"The truth is, we can fully stock these refrigerators in the morning and within sometimes a matter of two hours, they're empty," she says.
Through the fridge organizers, Jessica Gasperini connected with Food Not Bombs, a global, all-volunteer movement that rescues grocery store foods that would otherwise be discarded. Food Not Bombs needed a way to transport all the food it was getting from local grocers—mostly from food co-op PCC at the time—to communities throughout the Seattle area. She owned a van, and in return for transporting the food across the city, she was offered half of the distribution for the South Park sheds.
The supply included things like prepared meals and pre-made sandwiches; foods with today or yesterday's expiration dates that stores needed to move off their shelves; lots of produce that was slightly less than perfect. Less frequently, they'd get dairy, including eggs and milk, which were very popular at the South Park sharing spaces and "so great to get," Jessica Gasperini says. And very, very infrequently, frozen chicken or beef.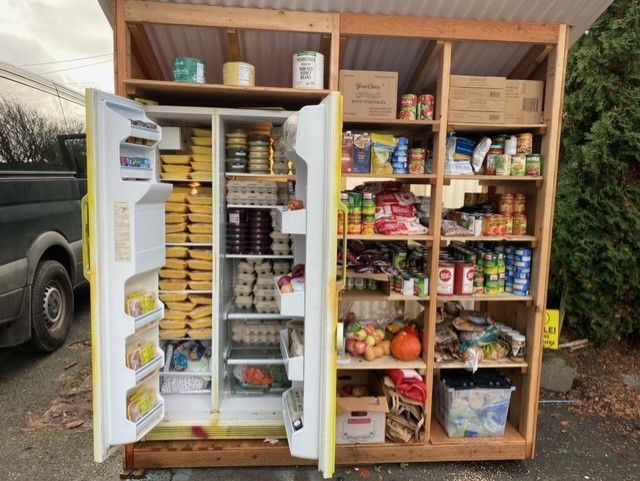 "I would say we were probably pulling 1,000 pounds of food per trip," she says. "It was enough to keep the [sheds] well-stocked… with a nice variety of foods. The other types of food we get are canned goods, any non-fresh foods. It made the sharing tables feel more like a curated grocery experience than a food bank."
Much like at the community center, that kind of coordination to keep the sheds fully stocked with everything from foodstuffs to feminine products, has been repeated again and again throughout the last year.
Food Lifeline, for example, which has a large distribution center in South Park, operates Shop the Dock, allowing people once-a-week access to its warehouse, where they can load up as much as they can carry. Gasperini says supplies from Shop the Dock go directly to the neighborhood fridges.
"At any given time, we've got drop-offs happening somewhere between three and, like, five times a week," she says. "And there's varying amounts and varying types of food. And then in between that, we have neighbors, and people… the refrigerator [at] my house has a pretty steady stream of traffic, [with] people both dropping off and picking up. And I imagine they're doing their grocery shopping and buying extra and stocking the tables."
Confronting COVID
But while keeping the fridges and pantries stocked has become less of a worry, the pantries have faced other challenges: animal intruders and the weather.
Williams is one of the original organizers of what, before the shelter-in-place order, had been sharing tables. She more than doubled her space when she converted her table into a shed.
She also added the neighborhood's first refrigerator and enclosed that and the shed to fend off rodents and provide protection from the elements.
Williams, who is a death doula and massage therapist, says South Park residents have had a mixed response to the shutdown. "In the ways … people in South Park [were] out and about much more often and gathering together in just daily behavior as a community, that had to stop," she says.
"But in the ways that we can hold and support each other… the things this community has done to keep people housed, to feed people, to keep electricity on, cleaning yards. … It's just been amazing."
---
| | |
| --- | --- |
| | Lornet Turnbull is the former civil liberties editor for YES!, a Seattle-based freelance writer, and a regional freelance writer for The Washington Post. An award-winning enterprise reporter who's worked in media for more than 20 years, Lornet has covered everything from the auto industry and labor unions in Michigan, to real estate and statehouse politics in Ohio, to homelessness in Seattle, to refugee children in the West Bank, and sex workers in Mexico City. She speaks English. |
---