How Oregon Became the Easiest Place to Vote in America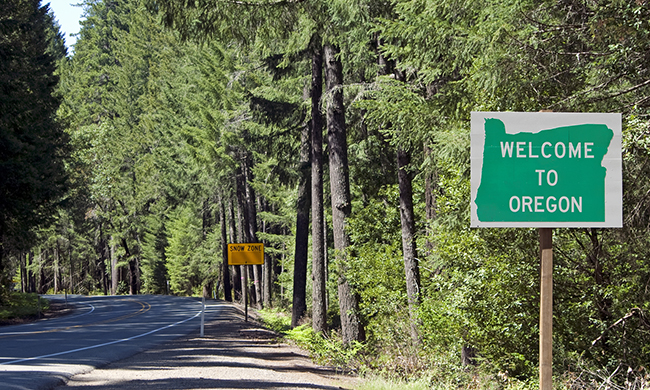 The state registers voters automatically at the DMV and then sends them ballots in the mail.
Why you can trust us
---
Charles Tso is an urban planner who moved to Portland, Ore., from California more than a year ago. An avid biker, the 26-year-old doesn't own a car and seldom drives.
So when he went to his local Department of Motor Vehicles office in February to obtain a non-driver ID card, Tso was stoked to discover he could simultaneously cross something else off his to-do list: registering to vote.
"The timing was great," he said.
In January, Oregon became the first state in the country to begin automatically registering eligible citizens to vote when they obtain or renew their driver's licenses or state IDs, completely shifting the burden of voter registration from the individual to the government.
Four other states have passed similar laws and more than half have considered doing so this year—more than two decades after the National Voter Registration Act of 1993 directed states to make it easier for citizens to register to vote at offices that provide public assistance, including motor vehicle agencies.
Compliance with NVRA has been all over the map: While some states make it possible for motor vehicle patrons to walk away fully registered, others provide little more than pen and paper, leaving it up to citizens to fill out the forms and mail them in.
"It's yielded a huge increase in voter registration and [created] a lot of momentum across the country."
In Oregon, DMV customers like Tso, who show up in the department's computer system as eligible but unregistered, are added by default to voter rolls without party affiliation; they later select a political party or opt out using a form sent to them in the mail.
That subtle difference—requiring people to take an extra step to opt out if they don't want to be registered—is producing results that have left behavioral scientists giddy.
"So far, it's working," said Jonathan Brater, of the Brennan Center of Justice at the New York University School of Law, an advocate for the modernization of voter registration. "It's yielded a huge increase in voter registration and [created] a lot of momentum across the country."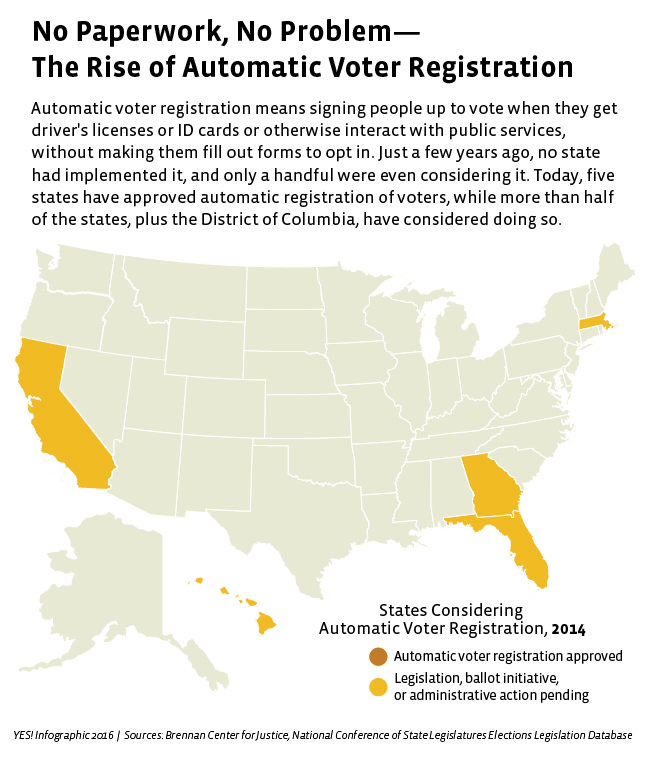 YES! Infographic by Jennifer Luxton. 
Through August, Oregon's Motor Voter law has registered 110,000 new eligible voters—around 720 a day—triple the number the DMV was registering with the pen-and-card method it used before the law took effect. Once registered, voters can mail back the ballots that are sent to their homes, making Oregon one of the easiest places in the country to vote.
More Oregonians voted in the May primary than in any other in the state's history. And the secretary of state estimates the registration program is on track to add 250,000 new voters in time for the November election. That number includes 122,000 DMV customers from the previous two years, who were added as part of a second phase.
Out in front
Just two years ago, barely a handful of states were considering this form of voter registration. But technology has made it easier to seamlessly transfer data between agencies, and states increasingly are taking advantage of it.
Legislatures in three other states have passed automatic voter registration laws: West Virginia, Vermont, and California, where an estimated 6.6 million eligible state voters remain unregistered, according to the California secretary of state. About 2.6 million of them were issued driver's licenses or ID cards between July 2014 and July 2015, and would have been registered to vote under a program like Oregon's.
Oregon is one of 27 states with the District of Columbia that offer some form of registration for people under 18. 
In March, a fifth state, Connecticut, implemented an automatic voter registration policy administratively. Meanwhile, lawmakers in more than half the states and in Congress have introduced similar legislation on the federal level.
"With Oregon opening the door, being the first to pass and implement automatic voter registration, more and more states are looking at it," said Dan Diorio, policy specialist with the National Conference of State Legislatures.
Molly Woon, spokeswoman for the Oregon secretary of state, said her office fielded a flood of calls from officials in other states and from research groups and think tanks seeking information about the Motor Voter program.
Meanwhile calls from local citizens have been largely from those saying, "I thought I was already registered to vote," Woon said.
---
But not everyone is crazy about automatic voter registration. Critics have argued that it won't solve low voter turnout. They believe the reason people aren't voting is because they lack motivation, not because they can't register.
And they point to data from Oregon's own Motor Voter program as proof.
In Oregon, registered voters need to be affiliated with a political party in order to vote in the state's closed primary. Of the 43,476 Motor Voter registrants who had earlier returned mailers selecting a party, only 19 percent actually voted. That's far less than the 53 percent of all Oregonians who voted in that election.
Michael Davis, president of the Enterprise Washington, a nonpartisan, pro-business research group in the Seattle area, said registering to vote should be a matter of personal responsibility.
"The state is picking up additional people who expressed no interest in registering to vote and is automatically doing it for them," Davis said. "Registering to vote shouldn't be forced on anyone or done on their behalf, forcing them later to have to opt out. What, is the next step going to be forcing them to turn in a ballot?"
Brater of the Brennan Center argues that making registration easier does boost voter turnout.
"Once you're on that list, you get election notices, you get contacted by political parties, civic groups," he said. "Studies show that kind of contact can take a person from being a non-voter to a sometimes-voter to a regular voter."
It started on a bus
While there's long been a call for automatic voter registration as a way to boost voter turnout, it was young people on a bus in Portland who helped to get the ball rolling.
The Bus Project, as it's called, got its start as a grassroots movement of young Oregonians, frustrated with the direction of the country during the early years of the Bush administration. They wanted to find ways to mobilize young people and engage them in the political process.
Organizers began running voter registration drives from a bus—of course—but soon realized the bigger reforms they sought could be achieved more simply: with the stroke of the governor's pen.
So in 2009, the Bus and a coalition that included student and labor organizations began strategizing on ways that would make it easier to register voters. They built and nurtured a partnership with then-Secretary of State Kate Brown, who would later go on to become the state's governor.
Their conversation began gaining momentum following the 2012 election. Bus Project Executive Director Nikki Fisher said organizers wanted the state to adopt modern voter registration approaches to reach greater numbers of voters, especially young people.
"We wanted to find ways to give more people access to the ballot by removing the key obstacles to voting," Fisher said.
They pushed for pre-registration for 17-year-olds, an increasingly popular reform measure that allows individuals younger than 18 to register to vote so they will be eligible to cast ballots when they reach legal voting age.
Oregon is one of 27 states with the District of Columbia that offer some form of registration for people under 18. 
They wanted to find ways to mobilize young people and engage them in the political process.
The activists also lobbied for and won an online voter registration program, now available in nearly 40 states, allowing eligible voters to register from their computers.
Their coalition broadened to include Basic Rights Oregon, the state's largest LGBT rights organization, and by the time they presented their plan for Motor Voter to lawmakers, with Brown as a dedicated ally, the size and diversity of their movement was hard to ignore.
The measure failed by a narrow margin in 2013 when Sen. Betsy Johnson, a Democrat, joined Republicans to cast the deciding vote against it. It finally passed last year, with no Republican support.
Fisher said when her group studied the program's registrants before the May primary, more than half were under 35.
"We are very excited and proud of Oregon for being a pioneer and champion in this growing movement to modernize voting," she said.
---
| | |
| --- | --- |
| | Lornet Turnbull is the former civil liberties editor for YES!, a Seattle-based freelance writer, and a regional freelance writer for The Washington Post. An award-winning enterprise reporter who's worked in media for more than 20 years, Lornet has covered everything from the auto industry and labor unions in Michigan, to real estate and statehouse politics in Ohio, to homelessness in Seattle, to refugee children in the West Bank, and sex workers in Mexico City. She speaks English. |
---