How This Black Student Used Documents and DNA to Find Her Slave Ancestors
LaKisha David's sense of dread increased as her turn approached. The professor had asked the students to introduce themselves by telling the history of their names. "It was humiliating, because I couldn't do it," David remembers.
It was the winter of 2013, and she was a master's student in MIT's Department of Urban Studies and Planning. She and her classmates were on their way to Ghana to research water and sanitation. "This is the way I'm being introduced to these people," thought David, "as someone who doesn't even know her history."
What David did know about her history, she didn't say. She is the direct descendant of slaves. Here she was, on her way to Ghana, and for all she knew she could be of Ghanaian descent.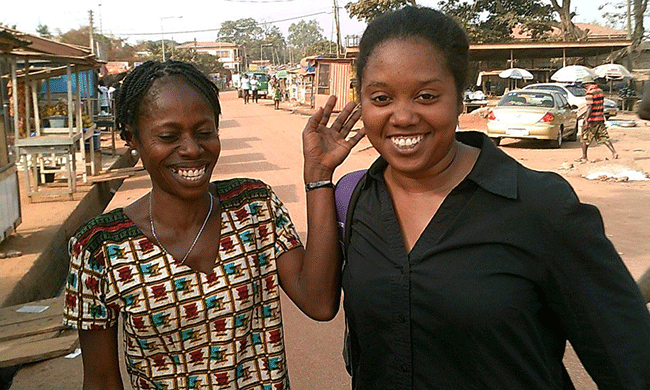 Ana Oppong and LaKisha David in Kumasi Ghana. Oppong taught David how to bargin with market workers on her first trip to the country. 
Tracing family history is no small feat for a descendant of African American slaves. Census records dating back to the decades after the Civil War are often misspelled and incomplete. Before 1865, slaves were most often quantified—by dollar value or head count on a plantation—rather than named. Finding bills of sale for slaves in old Southern courthouses is possible, but difficult. Union forces burned down many Southern courthouses at the end of the Civil War, sending the paper documents naming slaves up in smoke. Most remaining records are not digitized. Though celebrities like Oprah Winfrey and other high-profile African Americans have been able to find their roots through DNA testing and scattered documents, it's a process that feels well out of reach for many.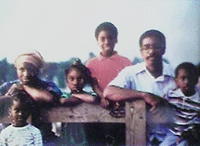 From left to right: Wylene Hameed (mother) Karimah Abdul-Hameed LaKisha David Papijonia Cherry Yusuf Hameed (father) Luqman Abdul-Hameed.
David had tried to trace her ancestry before, and had not made any progress. The fact that she might never know her ancestors' names and origins had weighed on her for nearly 30 years. It had become an increasing burden to her as she slogged through her studies.
David grew up in an African American neighborhood in Greensboro, North Carolina, among people who carried that same burden. She completed her undergraduate degree at a historically black college. When she was accepted for graduate studies at MIT, David assumed her acceptance letter meant acceptance into the MIT community. But a year into her studies, it didn't feel that way anymore.
She'd been deep in the pit of depression for months when her friend expressed a sentiment she'd felt her MIT colleagues radiate since she'd arrived. "A friend and I were talking one day and she told me, in a matter-of-fact way, that I was at MIT because of affirmative action," David recalled. For the first time, she questioned whether she was qualified to study there.
Around the same time, in the fall semester of 2013, David enrolled in a class called Legal Aspects of Property and Land Use. Her professor, Dr. Balakrishnan Rajagopal, introduced a unit on the concept of people as property. The list of assigned readings described her own ancestors: property.
David's depression morphed into determination. "I wanted to know: Who am I?" she said.
The search
David's mother, Wylene Hameed, had been longing for the same information her whole adult life. She'd wanted to raise her children with knowledge of the story of their family, but settled for the broader history of African Americans.
David's depression morphed into determination. "I wanted to know: Who am I?"
In the late 1970s, when her eldest children were toddlers, Hameed bought a four-volume set called Ebony Pictorial History of Black America. She would show David and her brothers the pictures and teach them the story behind each face. She looked for any material she could find to connect her children with their roots. Every year, the South African miniseries Shaka Zulu came on Greensboro's local channel. By middle school, David could recite lines from it.
Hameed's search for her ancestors had produced only one major clue—and it was barely a clue. It felt more like a rumor. There was a book, apparently, that included her family's history.
At a family reunion in 1985, an aunt told Hameed about the book, but didn't know the title or author. Then in 1997, Hameed tracked down a cousin in South Carolina and went to meet her for the first time. The cousin had heard of a book, too, but didn't know where it was or what it was called.
David set out to find the book her mother had been unable to find. She searched the Internet for every name she'd ever known to be in her family—every possible spelling and title she could imagine. She searched library databases, too.
Nothing.
She culled through old census records to track her people post-Civil War. On ancestry.com, she emailed people whose family trees matched hers.
In this way, David found a woman named Gwendolyn Braxton—a relative of a relative. Braxton, a paralegal for the U.S. Attorney's office in Houston, had been piecing together family trees for American slave descendants for years. In one search she did for a friend, she'd turned up an original bill of sale for a slave ancestor.
Braxton didn't have any leads for David, but she promised to help in any way she could.
"My biggest goal was to break past 1865," David said. Working late into the night, night after night, she was able to trace her maternal line a few generations back. But before the Civil War, African Americans were listed as quantities within age groups under their owners. A number was not a name.
When one of her Internet searches turned up a place called the Louisiana History Museum in Alexandria, she decided to make a call. David told the librarian every family name she'd come across in her search. The librarian came up with a title: The Lacroix Descendants, 1611–1991. David got the author's phone number.
"She wasn't just a slave in this anonymous cloud of slavery anymore. She was real, as if she were my mother."
"I was surprised that someone that far away would even hear of my book," said the author, E. W. McDonald, who is white, age 88, and a retired aerospace engineer with a Southern drawl. He had spent 20 years researching and writing his family history, including slaves. Six of his book's 606 pages concern David's slave ancestors. She bought the last copy.
She learned that a woman named Milo, purchased in 1811, was her 3rd great-grandmother. Samuel Glass, who was white and whose legal wife, Mary LaCroix, was infertile, bought Milo to bear his children. Milo was renamed Tamar and gave birth to four children, all by her owner. Her youngest son, James, was David's great-great-grandfather. James was born into slavery, but died free.
The book was a treasure, a "Rosetta Stone," David called it. But it wasn't enough. She wanted to hold in her own hands the source documents that would prove McDonald's assertions.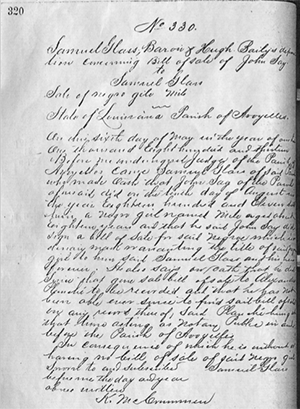 Bill of Sale for LaKisha Davids 3rd great-grandmother Milo who was a slave. This Bill of Sale is in an old Louisiana courthouse among other similar records.
She knew most of them were at the Marksville Courthouse in Avoyelles Parish. But David had little money and a master's thesis due. A trip to Louisiana was impossible.
Braxton, the friend David made on ancestry.com, had a solution. She was making an unexpected trip to central Louisiana. If she could find the time, she'd go to the courthouse on David's behalf.
In the middle of her trip, Braxton got in her car and drove an hour through pouring rain to the courthouse in Marksville. The clerks sent her to a basement warehouse across the street. The room was damp. It had no windows. They'd given Braxton no gloves and no special instructions. She set about looking through books of handwritten records from the 1800s, stacked in no discernible order. After an hour, she'd found nothing.
She went back to the clerk. She'd been searching wills, but the name she wanted most—Milo—would be on a sale document. The clerk took her to the conveyance records. One at a time, Braxton flipped through brown-gold books so large she had to hold them with both hands.
Braxton stopped when she came to a page that read:
On the sixth day of May in the year of our Lord one thousand eighteen hundred and thirteen, Before me undersigned judge of the Parish of Avoyelles came Samuel Glass of said Parish who made oath that John Say of the Parish did on the tenth day of August in the year eighteen hundred and eleven sold him a negro girl named Milo aged about eighteen years old.
Braxton copied the document and put it in the mail.
"She was real, as if she were my mother"
The day David got Braxton's envelope, she waited until she was upstairs in her apartment, sitting down at her living room table, before she opened it.
She plans to return to Africa one day. This time, she'll be going to see family.
Braxton had turned up more documents than the bill of sale. She'd found the marriage record for Milo's son James to a woman named Suzie. She'd found a second bill of sale for Milo, who was sold away from the plantation where her children lived after her first grandchildren were born. There was her name, hand-written in cursive: Milo, the first time she was sold; Tamar, the second.
"She wasn't just a slave in this anonymous cloud of slavery anymore," said David. "She was real, as if she were my mother."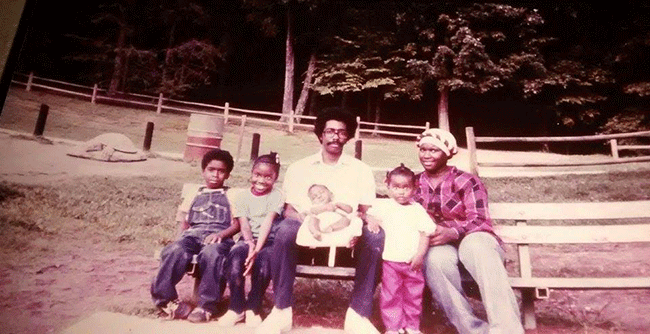 From left to right: Papijonia Cherry LaKisha David Yusuf Hameed Luqman Abdul-Hameed Karimah Abdul-Hameed Wylene Hameed.
"You carry a pain, a hidden pain, that you're not aware you're carrying," David's mother said. "I felt like the pain was leaving me each time my daughter discovered the next thing."
David had emerged from her depression by the time she graduated MIT. In the fall, Dr. Rajagopal had let her write her final paper for his class on her search for her ancestors. She applied for doctoral programs as she came out of the haze of depression, and was accepted.
Today David is in the process of earning her Ph.D. at the University of Illinois at Urbana-Champaign. Her research topics are "family restoration between continental Africans and the African diaspora" and "African transnationalism at the family level," among others.
David has not yet been able to find Milo's mother, or trace her other descendants. She has, however, traced her own roots back across the Atlantic through a DNA test with African Ancestry. For $299, she learned that she descends from the Tikar, Hausa, and Fulani people of Cameroon. (The American Embassy in Cameroon supports family reunification through DNA testing.)
DNA testing sites offer internal messaging services between people who are related by blood. In the United States, recent African immigrants are using DNA tests to find relatives who have been in the United States since slavery. As part of her research, David recently wrote about a Ghanaian-American family reunion: A young man from Ghana and an African American woman were able to link two family branches—the branch that became slaves, and the branch that remained in Ghana. Now, they have met in person and are building a full family tree together.
Though David has extensive research yet to do before she maps all of her roots, she plans to return to Africa one day. This time, she'll be visiting family.