"Selma": A Beautifully Shot Film Shows How Change Really Happens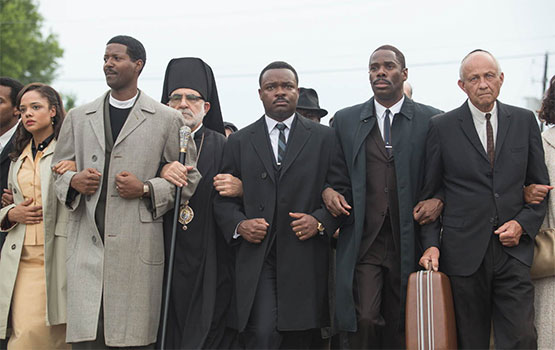 I'll admit that Selma caught me off guard. My first thought, seeing its star, David Oyelowo, adjust his tie in the opening scene, was "That's Dr. King." Few movies have brought Martin Luther King Jr. to the silver screen, Ali (2001) and The Butler (2013) being the most recent exceptions. A handful of TV films and miniseries have featured depictions of King, but his life and work have seldom, if ever, received the delicate, human nuance that director Ava DuVernay and Oyelowo offer.
It's with this care that Selma offers a valuable and all-too-rare history lesson in how social movements both work and win.
DuVernay shows us just a snapshot of the work that happened in Selma, but it's an important one.
It's also rare to see a film explore the complex inner workings of popular movements from the perspective of those driving them. Watching the story unfold, I realized how totally bizarre it is that reviewers on the website Rotten Tomatoes mention Selma and The Help (2011) in the same breath. Contrary to The Help's tagline, transformative change does not "begin with a whisper" or—historically—with a white woman bonding with her black maid.
Yes, both stories are based in the South of the 1960s and illustrate racism, but Selma is a film about skilled organizers building a movement; if you're really hungry for a comparison, check out Gandhi (1982), Che (2008), Milk (2008) and TV movies Freedom Song (2000) and Iron Jawed Angels (2004).
Selma, though, stands in a category all its own; historian Peniel E. Joseph rightfully calls it "the most complex and intellectually satisfying civil rights movie ever made." Neither a "great man" history of King (or, thankfully, of President Lyndon B. Johnson) nor an outsized tale about forgotten underdogs, Selma—as much as any movie might hope to—captures both King's greatness as a leader and the dedicated team of men and, refreshingly, women who made the movement and its considerable victories possible.
The film drops viewers into a relatively late stage in the civil rights movement, 10 years after the Montgomery Bus Boycott of 1955. By this time, King was a celebrity; Selma's first scene shows him receiving the Nobel Peace Prize in Oslo. And his organization, the Southern Christian Leadership Conference, or SCLC, was a well-oiled machine, driving confidently into Selma to make good on his promise of forcing then-President Johnson (Tom Wilkinson) into the voting rights debate. In many states throughout the South, all citizens were constitutionally (read: technically) guaranteed the right to vote. However, poll taxes and other bureaucratic hurdles made it virtually impossible for the vast majority of African Americans to do so.
DuVernay follows King—along with movement heavyweights Andrew Young, John Lewis, Ralph Abernathy, and more—through their three-month tenure in Selma, Alabama, where just 1 percent of blacks were registered to vote despite making up more than 50 percent of the population.
DuVernay doesn't shy away from the emotional and physical battle scars worn by the movement.
The film tracks the campaign's first moves and confrontation with Sheriff Jim Clark (Stan Houston), as hundreds of black Selma residents demand entry into the county's voter registration office, which was open just twice a month.
Regular protests continue for weeks, with Selma police and white mobs growing increasingly violent toward protesters. Two of them, Boston preacher James Reeb and teenager Jimmie Lee Jackson, are killed. The drama of both the movie and the actual campaign climaxes on "Bloody Sunday," the violent showdown between state troopers and nonviolent protesters, who, broadcast live on national television, brought the public's attention to the issue of voting rights. The film ends as Johnson reluctantly champions the Voting Rights Act of 1965 before Congress and the American public in a live, televised address.
As alluded to in the film, the success of King and the SCLC in Selma was built on the foundation laid by local activists and another civil rights group, the Student Nonviolent Coordinating Committee (or SNCC, usually pronounced "snick"). Although the SCLC was made up primarily of older, established movement leaders, the students of SNCC—represented in Selma by John Lewis and James Foreman—injected a youthful militancy into the civil rights movement after the group's founding in 1960, with field organizers throughout the South leading aggressive and often scrappy campaigns for voting rights and desegregation. Students like Foreman and Lewis had been organizing voter registration drives in Selma since 1963, but faced vicious opposition from county law enforcement officials and the local Ku Klux Klan that made the task exceedingly difficult.
DuVernay shows us just a snapshot of the work that happened in Selma, but it's an important one. The city was carefully chosen. Alabama Governor George Wallace (Tim Roth) and Sheriff Clark had already proven themselves villains as cartoonishly obstinate as Bull Connor, the commissioner of public safety in Birmingham, Alabama, whose brutality in conducting that city's police department helped land the movement on national television and spark public outrage. The coverage helped to dismantle any misconceptions of some genteel, contented Jim Crow South.
The film suggests that obstinacy extended to the White House. "He'll ignore us if he can," King says in the film of President Johnson's stance on voting rights before the Selma campaign. "The only way to stop him from doing this is being on the front page of The New York Times every morning and on the TV news every night." In a move that angered some student organizers who'd been carefully cultivating relationships there, SCLC members rapidly escalated the situation in Selma in order to put Johnson's feet to the fire.
The Selma campaign was a prime example of one of King's favorite tactics: nonviolent war. In a 1985 interview, movement leader James Bevel (played by rapper Common in the film), reflected that "if a young person could go to Vietnam and engage in a war, then [a] person … the same age or younger could engage in a nonviolent war."
As civil rights historian Emilyne Crosby points out, it was "female agitator" and seasoned strategist Diane Nash (played by an underutilized Tessa Taylor) who first urged organizers to take up nonviolent war, resulting in the 1961 fight to desegregate the South's public transit system. In that campaign, young white and black activists intentionally heightened—simply by riding integrated buses from the north into the South—the conflict with racist white mobs and law enforcement, who waited along the bus routes. Knowing they would be arrested, students publicized the rides and overwhelmed city jail systems to force otherwise passive observers to take sides: with nonviolent students or the people beating them. National news coverage quickly caught on; images of the "Freedom Riders" being beaten in the streets flooded Americans' nightly news programs.
The fault, activists argued, lay with the White House: They could desegregate transit or have blood on their hands. Faced with mounting pressure, then-Attorney General Robert Kennedy finally pushed the Interstate Commerce Commission to integrate.
War, in Selma, isn't an overstatement. DuVernay doesn't shy away from the emotional and physical battle scars worn by the movement, showing a nearly frame-by-frame recreation of the Bloody Sunday confrontation on Edmund Pettus Bridge. She pays careful attention to the toll that violence and constant fear of death took on King and his wife, Coretta Scott (deftly portrayed by British actress Carmen Ejogo).
It's hard to imagine a more perfect time for Selma's release: on the eve of Martin Luther King Jr. Day and amid the Black Lives Matter movement, which demands, yet again, we wake up and fight for justice.
Aside from being a masterfully constructed, beautifully shot film, Selma allows viewers to imagine what it would mean to—in the slightly wonkish words of SCLC organizer Bayard Rustin—"break down" the institution of racism "into the tangible tactics it takes to dismantle it."
In simpler terms, Selma offers a window into the past that might just help tackle the problems of the present.